Entertainment | 18 Aug 2015 | By Sun International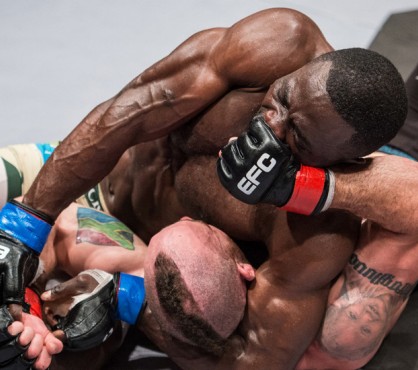 Things to know about EFC Africa
You've heard about cage fighting, mixed martial arts (MMA) and Extreme Fighting Championships, but do you know what the fuss is all about? There's more than meets the eye to this extreme sport than a few well-aimed punches. Here's what to know about EFC Africa:
Picture the scene: two men face off inside a hexagonal cage, bodies honed from months of training, muscles flexed in preparation of battle. They eyeball one another for a few seconds before surging forward, striking and kicking, aiming for a knock-out. Cheered on by the audience, the bout lasts five minutes with neither fighter giving in. The referee blows his whistle and the two men release and retire for a break of 60 seconds, using the time to devise a strategy. This is more than just a modern day gladiator sparring content – this is the world of EFC Africa.
With more than 120 athletes taking part in 10 live annual events across Africa, the Extreme Fighting Championship is a sports entertainment event which has a loyal fan base. Although this is indeed a combat sport, one of the most important things to know about EFC Africa is that it is governed by a strict set of rules. Non-championship fights consist of three rounds of five minutes each with a one-minute break between rounds, while championship bouts consist of five rounds.
The goal of the sport is to knock-out or fight your opponent into submission. Largely comprised of strategy, it takes smarts to discover your opponent's weaknesses and leverage them to your advantage, while avoiding the extensive list of fouls, which include head-butting, biting, hair-pulling and groin attacks of any kind.
Things to know about EFC Africa - Safety
Every EFC Africa event has Event Doctors, an on-site emergency medical team, standing by. With registered sports physician Dr Ewoudt van der Linde at the helm, this team of medical specialists do several pre-fight tests to ensure the participants are literally fighting fit. These include an uncontrasted CT brain scan, HIV blood tests, a Hepatitis B test as well as a brief medical exam. Not only that, but detailed medical reports are submitted by Event Doctors after every event. Any fighter who suffered a serious concussion or knockout will undergo a neurological examination afterwards.
How can a fighter win the match?
There are a number of ways in which the match can be won. These include:
Submission by: physical tap out, verbal tap out or technical knockout by the referee stopping the contest.
Decision via the scorecards: unanimous decision, split decision, majority decision.
Draw, including: Unanimous draw, majority draw, split draw.
Technical decision.
Technical draw.
Disqualification.
Forfeit.
No contest.
Some statistics from 84 EFC Africa matches held between 11 December 2009 and 3 Feb 2011 show that 65 matches ended in the first round, 14 in the second round, and 5 in the third. Submission proved to be the most common way to end a match, followed by technical knockout (31 or 36%), knock out (11 or 13%), choke to unconsciousness (2), disqualification (1) and no contest (1).
Things to know about EFC Africa - Weight Classes
Participants in EFC Africa events are graded according to different weight classes:
Flyweight – below 57kg.
Bantamweight – over 57kg to 61kg.
Featherweight – over 61kg to 66kg.
Lightweight - over 66kg to 70kg.
Welterweight - over 70kg to 77kg.
Middleweight - over 77kg to 84kg.
Light Heavyweight - over 84kg to 93kg.
Heavyweight - over 93kg to 120kg.