Entertainment | 15 May 2017 | By Sun International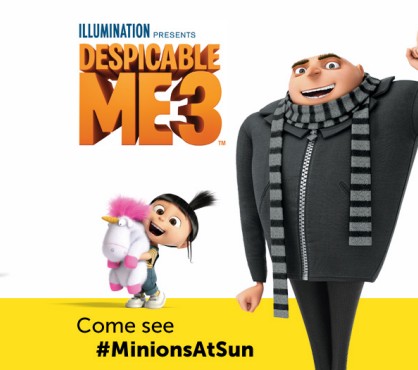 Catch the Despicable Me Minions in a brand new movie!
Do you need a laugh riot? Make sure you don't miss Despicable Me 3, with those crazy, yellow Despicable Me Minions up to new tricks, hitting theatres on 30 June 2017. All your favourite Despicable Me characters are back in action in this new flick – and there's a new character in town: Gru's twin brother.
Expect fun, new Despicable Me characters
When the shoulder-pad-wearing, mullet-flaunting Balthazar Bratt, a former 80s child star turned villain, steals the world's biggest diamond, Gru is fired. So little Agnes sets up a stall to sell her toys – even her fluffiest unicorn – to help her adoptive dad out of a tight spot. Of course, she gets a helping hand from the Despicable Me Minions.
Cue plot twist: a representative with a posh British accent appears, and informs Gru that he has a twin brother, Dru. Bowled over by this news, Gru had no idea he has a long-lost brother and when they meet, it's hard to tell the two Despicable Me characters apart. Except for the fact that Dru has shiny, golden locks, a crazy collection of expensive, imported cars and a fabulously cool house. Okay, so the brothers look alike, but that's where the similarity ends. Dru is the flashiest, slickest and almost one of the funniest Despicable Me characters to date, except for the Despicable Me Minions, of course. And what's more, Dru has his own set of Despicable Me Minions… except they're pigs. Oh, and did we mention Dru lives on a private island and has been an extremely successful super villain? Evil runs in the family!
A wild ride with the Despicable Me Minions
After reuniting, Dru hatches an evil plot to his brother: he wants Gru to join him in one last villainous heist to recoup the diamond Balthazar Bratt has stolen. With a little help and a lot of interference from the Despicable Me Minions, this animated flick promises to be a fun, wild ride from start to finish!
The cast for Despicable Me 3 includes Steve Carrell as Gru and Dru, Kristen Wiig as Lucy Wilde and Trey Parker as Balthazar Bratt. Despicable Me 3 was written by Cinco Paul and Ken Daurio and directed by Pierre Coffin and Kyle Balda. Check out the trailer here and see the Despicable Me Minions in action! What's more, there will be a Minions sequel, coming out in 2020!
Fun facts about the Despicable Me characters:
Gru's full name is Felonius Gru.
Despicable Me 2 was nominated for an Oscar in 2013 for Best Animated Feature.
The average Minion is about 105cm high.
This is probably the last movie where Steve Carell will voice Gru, but he has said he'll be happy to do any cameo parts in future Minion sequels, starring either of the Despicable Me characters he voices.
In Despicable Me 2, Lucy Wilde gives her number to Gru. For several months after the release of the movie, if you called this number, you'd get a recording of Kristen Wiig in character as Lucy, giving her outgoing voicemail message.
Gru's former jobs have included being a supervillain and jelly manufacturer. He is now employed by the Anti-Villain League.
Agnes is now voiced by Nev Scharrel because Elsie Fisher, who voiced Agnes in the first two Despicable Me movies, is too old for the part.
Minion Bob has two differently coloured eyes: this is a rare condition which is known as heterochromia iridum.
Actor Alan Tudyk was initially considered to voice the part of Balthazar Bratt.
This is the first movie which Illumination Entertainment has released in a 2:35:1 widescreen aspect ratio. (You'll need more popcorn to watch it!)
While it seems there are an endless number of Despicable Me Minions, there are a total of 899 Minions serving Gru.
Great news! You can meet the Minions in South Africa! Visit the Despicable Me characters at a Sun International property on these dates:
| | |
| --- | --- |
| Sibaya | 20 May |
| Meropa | 3 June |
| Sun City | 9, 10 and 11 June |
| Carnival City | 16 and 17 June |
| Wild Coast Sun | 2 and 3 July |
| Boardwalk | 5 July |
| GrandWest | 8, 11 July |
| Golden Valley | 12 July |
| Windmill | 14 July |
| Flamingo | 15 July |
| Sun City | 20 - 23 July |