Entertainment | 22 Sep 2014 | By Sun International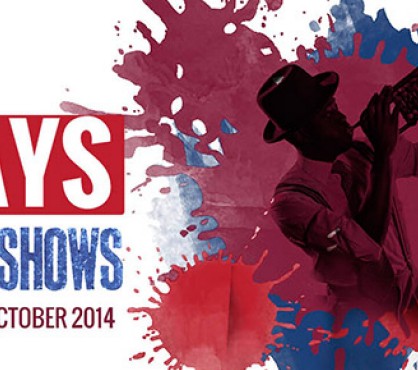 The Fringe Festival - Cape Town entertainment for everyone
If you're planning to be in the Mother City between 25 September and 5 October, and are wondering what to do, pencil in the first ever Cape Town Fringe Festival into your diary. Word on the street is this brand new Cape Town event will be setting the theatre scene alight. With 100 shows on the bill, there's something for everyone.
While staying at The Table Bay Hotel which boasts the best address in Cape Town, you're perfectly situated to take in all that the Fringe has to offer. And while there's plenty to keep you busy at GrandWest, the largest entertainment centre of its kind in South Africa, you're only a short drive away from Fringe Festival events and activities.
The idea of 'Fringe' was conceived just after World War 2 in Scotland, when a group of independent artists felt excluded from the mainstream Edinburgh Festival and started their own event on the side.
Characterised by staging small productions - mostly by independent practitioners - a Fringe Festival typically uses small and unconventional spaces as venues, squeezing between six and eight performances a day into each venue. The point is to make it cheaper for everyone who participates, from the artists through to the audience.
South Africa only has one true Fringe Festival, and this a part of the annual National Arts Festival in Grahamstown. While the Grahamstown Fringe Festival is open-access, meaning that anyone who takes the time to fill in the correct forms can showcase their work, the Cape Town event has been structured slightly differently, and is modeled on Fringe Festivals in New York, Prague and Amsterdam. Cape Town Fringe has carefully selected its works through a proposal process, making use of 40 year's worth of entertainment expertise. Quality? Guaranteed.
Earlier this year, the National Arts Festival and the City of Cape Town announced a partnership to see the launch of the Cape Town Fringe Festival. Inspired by the energy and ethos of popular Fringe Festivals across the globe, the Cape Town Fringe will feature young, dynamic and cutting-edge work from some of the country's leading theatre-makers.
The National Arts Festival selected Cape Town as the host city after an extensive analysis. Looking for a city that puts creativity at the forefront and has a strong and loyal theatre-going audience, the National Arts Festival felt that Cape Town embodies the right energy for a free-spirited event such as the Fringe. Equally important, the Mother City boasts the necessary infrastructure, as well as a whole host of great Cape Town accommodation options available.
The Cape Town Fringe will take place in 16 venues in and around the city centre, as well as in satellite venues in areas such as Langa. Cape Town's City Hall will form the core venue for the event, and will boast several performance spaces and a Fringe Hub where artists, audiences and the media can gather at the end of each day.
Cape Town boasts a wide selection of activities for everyone to enjoy, and the Fringe Festival will serve as an ideal staging point from which to explore the city.
The Cape Town Fringe is a platform for young, independent artists and arts companies to make their voices heard. Expect theatre, dance, music, comedy and jazz productions that are brash, bold, cheeky, outspoken, confident, socially aware and independent.
Performance spaces are both formal and non-traditional. You may find yourself in a classic theatre, or somewhere more quaint, like the German Club. Quick tip: add just R20 to your ticket and you'll get a sandwich and cooldrink of your choice delivered to the venue for you.
Whether you're a theatre-fundi or just curious, the Fringe concept has Cape Town entertainment for everyone. Whatever your mood, there are genres aplenty to choose from. Musical, illusion, and belly-gazing drama are all up for the taking. Conceptually, a Fringe Festival is designed to appeal to as many people as possible, and takes ticket pricing, choice of venues, as well as performance scheduling into account to achieve this. However, due to the nature of non-traditional performance spaces, wheelchairs can only be accommodated at some venues. Please contact the Box Office Manager on 086 000 2004 to discuss your requirements and arrange assistance where necessary.
Unlike the fully immersive experience of the National Arts Festival, this Cape Town event has been planned to keep in step with the everyday rhythm of the working city, which means you can catch a world-class performance anytime that suits your schedule.
Okay, besides award-winning actors, renowned playwrights, and breathlessly experiencing cutting-edge artistic expression, this is an event designed to showcase and support South Africa's wealth of talent. A massive 70% of every ticket sold goes to the performing company. Truth. Besides enriching the lives of the performers, this Cape Town event will create jobs, contribute to the economy, and drive tourism.
Tickets are thoughtfully priced (between R70 and R90), which means you can take the whole family out for a cultural experience. And because it's the first of its kind, this Cape Town entertainment event will have a unique and non-prescriptive flavour, and a strong sense of community spirit. Get involved. PS: All performances scheduled on the last Sunday of the Cape Town event will be sold at 50%.
The Fringe programme - made up of theatre, dance, comedy, jazz, cabaret, classical music, children's theatre and more - is available online at www.capetownfringe.co.za.
For more information, email info@capetownfringe.co.za or call the festival hotline: 060 948 2706
The Fringe is produced by the Grahamstown National Arts Festival team, and is supported by the City of Cape Town and Standard Bank. 567 Cape Talk and MNet are media partners.