Entertainment | 12 Apr 2017 | By Sun International
Barnard Wins Big at GrandWest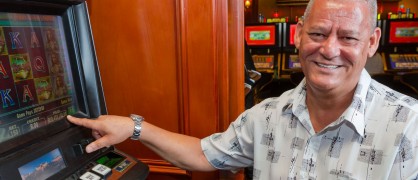 Jackpot! When GrandWest Casino awarded Klaus Barnard R10 million in winnings, it was the biggest slots payout in Sun International history. Barnard, a 54-year-old Parow local, hit the jackpot on 4 December 2016 in the Salon Privé at GrandWest.
A Siren Call
Barnard, a Sun MVG cardholder, was attending a function at GrandWest with his wife when he decided to "take a turn" past his favourite Sirens slot machine in the exclusive Salon Privé before retiring to bed. "I knew you could win R1 million in a casino, but I never expected to win R10 million," recalls Barnard, who added that he was shaking with shock when he phoned his wife, who was also playing on the floor, to relay the news.
"At the time of my win, I was actually down on my play," he said. He stood up to play his other favourite slot machine but, because it was occupied, he returned to Sirens. "On the free spin I collected the word 'Bonus'. I chose a box and saw that it was a money number of x3 which went over to x5 and then I realised it was going to reach x10. I was very lucky in choosing those boxes."
Biggest Win for Barnard
Barnard, who visits GrandWest regularly to play as a form of relaxation when he is stressed due to work, says he only plays the amount he loads onto his card at each visit. This is his biggest windfall in 16 years of gaming at GrandWest. In July last year, he won R700 000 and just five days earlier had a payout of R330 000.
GrandWest Casino is open 24 hours a day, seven days a week, and is the largest entertainment destination of its kind in South Africa. The casino features over 2 500 smart card slot machines and more than 79 premium table games in smoking and non-smoking gaming facilities.
Congratulations from GrandWest Casino
Congratulating Klaus Barnard on his win, Elouise Matthys, PR and promotions manager at GrandWest said, "Mr Barnard has been a Most Valued Guest since we first opened GrandWest 16 years ago. I couldn't think of anyone better to win the biggest slots pay out across Sun International. The closest slots win to this that we have had has been on progressive slots machines like Sunstriker and Duma."
Trained as an accountant and currently self-employed, Barnard plans to use some of his winnings to treat his family to a holiday in Miami and will invest the rest.
For news on our casino promotions, like GrandWest on Facebook and follow us on Twitter.
GrandWest casino supports the National Responsible Gambling Programme. Gambling is for persons 18 years and older. Winners know when to stop. National Responsible Gambling Toll-free Counselling Line 0800 006 008. Sun International Casinos are licensed casinos.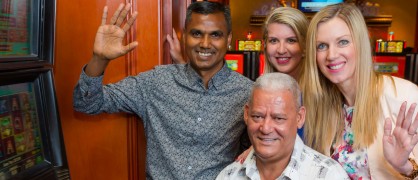 (L-R) Klaus Barnard is congratulated on his win by GrandWest GM Mervyn Naidoo, PR & Promotions Manager Elouise Matthys and Sun International Regional Marketing Manager, Nikki Botha.