Business | 21 Mar 2017 | By Sun International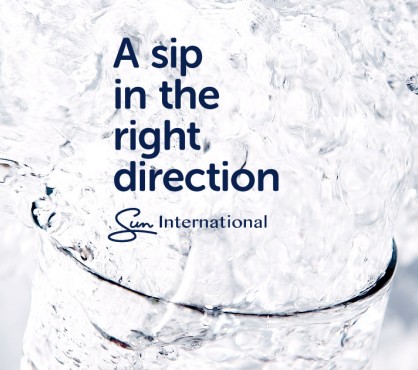 Bottled Water Sustainability by Sun Glow
It's not breaking news, we all know that drinking eight glasses of water a day is considered the standard for optimal health and wellbeing. However, with many of us on the run during the day, this often means drinking plastic-bottled water, which raises the important issue of bottled water sustainability. With the water crisis in Cape Town and a global move towards the conservation of water, sustainable bottled water should be a top priority for corporates and individuals.
Leading the charge, Sun International has actively pursued eco-friendly sustainable bottled water solutions that positively impact the environment now and in the future. As part of the Sun Glow sustainability initiative, Sun International has long considered sustainable water management a priority. Partnering with Vivreau, which provides advanced eco-friendly sustainable water management to global corporates, hotels and restaurants, Sun International has ensured a win for guests and the environment.
Launched in the 1980s, Vivreau is a global market leader with clients ranging from Vodafone and Hersey's to Yahoo and Microsoft. Specialising in bottled water sustainability, Vivreau water is now served in the meeting rooms of approximately 75% of the top 100 UK companies.
Did you know? The average tap runs at ten litres per minute!
 "We're helping to make sustainability cool and prestigious." – Charles Tapanlis, managing director of Vivreau: Sub-Saharan Africa and Indian Ocean Islands
Empowering Sun International to play an active role in bottled water sustainability, the Vivreau sustainable water management system means that Sun International bottles top-quality, still and sparking water in-house. Creating long-term benefits for the conservation of water, Sun International's partnership with Vivreau water is expected to remove more than eight million plastic bottles from the system.
Did you know? Sun City alone uses more than two million bottles or servings of water every year. That's enough empty plastic water bottles to fill the entire Valley of Waves!
If that was not reason enough to celebrate, the introduction of Vivreau water means that Sun International will also slash its carbon footprint further by reducing the need for bottle manufacturing and associated waste by-products, transport, storage and refrigeration.
Did you know? Sun International is in great company! Former US president Barack Obama, rapper Jay Z and film director Francis Ford Coppola are all supporters of the Vivreau brand.
How does the Vivreau sustainable water-management process work?
Sustainable bottled water starts with thinking beyond plastic.
Green-thinking companies that partner with Vivreau, bottle their own 'ultra-purified' water directly on site, which is then tapped straight into premium, reusable, sterilised, designer glass bottles.
Did you know? The average one litre plastic bottle takes three litres of water to produce.
Keep cool! Truly sustainable bottled water means considering the cooling process.
It's tapped at a cool 4,5°C, which means the water won't need refrigerating – one of the biggest power draws in the whole beverage process.
Because bottled water sustainability can be thirsty business, the filtration machine – or 'big bottler' – can refill ten bottles a minute with top-quality still or sparkling water.
Did you know? While many promote recycling as part of sustainable water management, the truth is that only 20% of all plastic bottles are recycled.
But what does bottled water sustainability have to do with oil?
Bottled water sustainability is so important because the production of plastic water bottles impacts the environment in ways that you might not have imagined. For example, the bottled water industry uses more than 200 million barrels of oil per year for production, packaging and distribution. That's enough oil to power all the cars in a medium sized country for an entire year.
Do your bit for sustainable water management, sip with Sun International and Vivreau.
With South Africa's average rainfall of 450mm, well below the global average of 860mm, it's important for all corporates and individuals to contribute to sustainable water management. Sun International is proud of its commitment to water conservation through its partnership with Vivreau. So, next time you check in at a Sun International resort, be on the lookout for the sexy new Vivreau glass bottles and know that you're playing your part for the environment by simply staying with us.