Travel | 20 Nov 2014 | By Sun International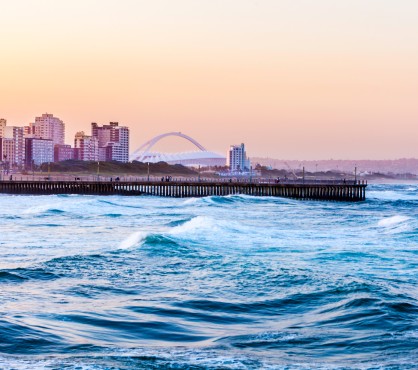 5 Activities in Durban that Cost Absolutely NOTHING!
If you're holidaying in Durban on a budget, you made the right destination choice as this city is packed with free things to do! Just for you and your budget, we've put together this little list of our favourite, free family activities in Durban.
1. Beaches! Beaches! Beaches!
While some of Durban's private beaches and resorts may require that you pay a small entrance fee, the very best spots for surfing, paddling and swimming are free for public use. Attentive lifeguards service many of the public beaches and all swimming, surfing and other ocean enjoyment activities are controlled by these keen-eyed supervisors. Look out for the signage that regulates where you're allowed to swim, as these are moved when required, in accordance with currents, ocean swell and necessary demarcations.
Psst – beaches in KwaZulu-Natal are protected by shark nets so, while you're enjoying a paddle in the warm ocean waters, you're relatively safe from unexpected surprises.
2. Beachfront Sunken Gardens
As you walk up towards the promenade from North Beach in Durban, you'll spy the Amphitheatre and, just to the left of it, Durban's beautiful, beachfront Sunken Gardens. Shaded pathways and bubbling water features make up parts of the Sunken Gardens, where intricate pathways whirl around the lush greenery and indigenous plants. The Sunken Gardens look like a place where you might find pixies or fairies at play, so go see if you and the kids can find some!
Did you know? A popular spot for cultural events, the Sunken Gardens were established and constructed during the 1930s
3. Durban Botanical Gardens
While you're in the mood for frolicking in green spaces, head to the Durban Botanical Gardens and enjoy the open spaces with interesting botanical exhibits too. Free to enter, the Durban Botanical Gardens are a well-loved and carefully tended institution in the city, playing host to a number of events, including the Old Mutual Music at the Lake concerts. Spend a lazy day in the sun at the Gardens but don't forget to bring some bread and feed the ducks!
Traveller tip: keep an eye out for the bridal parties – there's always someone getting their special day snapped in the Gardens!
4. The KZNSA Gallery
You'll find the KZNSA Gallery in Glenwood, just around the corner from the very up and coming nightlife district of Davenport Road. Situated just next to the recently upgraded Bulwer Park, the KZNSA Gallery hosts a number of travelling and rotating exhibitions throughout the year. A quiet wander through the gallery will give you insight into some of South Africa's greatest contemporary artists, who work in a variety of media. For the festive season, the gallery explodes with colour as it holds its annual Buzzart fair, enabling local artists, craftspeople and more to sell their goods to shoppers keen on finding festive bargains.
5. Durban Natural Science Museum
Did you know that Durban has a dinosaur? Yes, really! You'll find a life-sized reconstruction of everyone's favourite, the Tyrannosaurus Rex, at the Durban Natural Science Museum. With stunning displays and breathtaking exhibits that'll have you and the kids keen on more, the Durban Natural Science Museum will not disappoint, especially on one of Durban's silly summer rainy days.