People | 24 Feb 2018 | By Sun International
From maintenance administrator to movie actress...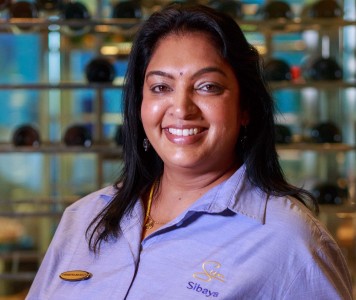 Having a career as an actress seemed an impossible dream to Sibaya's maintenance administrator, Chrisintha Moodley. But now she is set to star in the next instalment of director Kumaran Naidu's Broken Promises franchise: Broken Promises 4-Ever, which is due for release later this year.
Chrisintha's excitement about her leading role in this Garuda Motion Pictures flick is palpable, especially considering that her rise to fame began just over a year ago when the local beauty was crowned Mrs Phoenix 2016/2017.
From behind the scenes to the spotlight
While working as a maintenance administrator at Sibaya, Chrisintha had never pictured a life in the limelight. But her life took a drastic turn when she took the crown in the 2016/2017 Mrs Phoenix competition.
As part of her prize, Chrisintha won a trip to India and with the crown came a new role: she became
a prominent figure in her community. While undertaking various projects for charities, Chrisintha had the opportunity to give motivational talks, judge other beauty pageants and attend a bouquet of glamorous functions.
'Suddenly being recognised by the community was very humbling,' she says. 'However, being Mrs Phoenix gave me the platform to take my charity and community work to new heights. I embarked on many community initiatives during my reign which included sponsoring two schools, the Phoenix Child Welfare and the women of Elim Senior Citizens Club. To see the appreciation on people's faces was overwhelming.'
Coming to a theatre near you
Now you can see Chrisintha's exciting new career as an actress in Broken Promises 4-Ever when it's released later this year. Jam-packed with comedy and drama not to mention a few twists, the film promises to keep audiences on their toes. Shooting is currently underway and several locations in kwaZulu-Natal are being used.
'From the moment I met Kumaran Naidu during auditions in April 2017, I knew I wanted to work with him on this movie,' Chrisintha says. 'I could see that he's easy to work with and such a gentleman. The movie is my next big adventure after my year-long reign as Mrs Phoenix 2016/2017 which concluded in October.
'It's been a wonderful journey and I've enjoyed every moment of it. I would like to take this opportunity to thank my family, friends and colleagues at Sibaya, as well as the community for supporting me during my reign and for making it such an unforgettable experience. I look forward to your continued support during my next adventure and the many wonderful things in store.'
Stay updated about Chrisintha's upcoming movie by logging on to the official Broken Promises 4-Ever Facebook page.