13 Nov 2017 | By Sun International
Time capsule buried to celebrate 25th anniversary of The Palace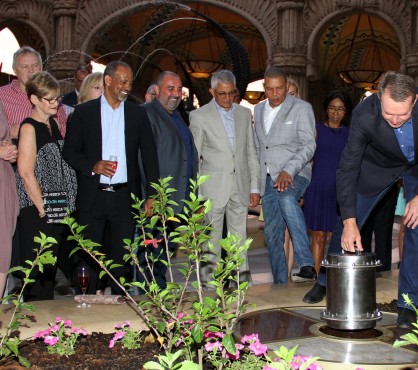 Sun International CEO, Anthony Leeming, buries a Time Capsule celebrating 25 years of The Palace
In 25 years when The Palace of the Lost City at Sun City turns 50, a time capsule that is to be buried in the grounds of The Palace of the Lost City, will be opened.
The receptacle will be buried on The Palace's 25th birthday on November 11 and will contain artefacts and documents from 1992 when the hotel opened to now.
A letter from current CEO, Anthony Leeming, will be included in the capsule to be opened on The Palace's 50th anniversary. In it, he will detail the current state of affairs at Sun International's flagship resort, Sun City, and his predictions for the next 25 years.
We cannot know what the world will be like in the next two and a half decades. Who would have foreseen the technological and digital changes that have occurred in our lifetime? The world is a very different place now than it was in 1992 and it will, I imagine, be different in 2042.CEO, Anthony Leeming
Legends rely on the passing of time to grow into myth. And so it has been with The Palace, a legendary destination designed by dreamers for luxury-seekers.
Since inception in 1992, the luxury five-star hotel, The Palace of the Lost City, has enthralled visitors from all over the globe.
The time capsule will include staff letters to reflect work and life at The Palace now as well as visualisations of what the hotel will be in 25 years.
We don't want to reveal too much about what we will put into our time capsule. Hopefully, it will be a surprise when it is dug up, and its contents revealed.CEO, Anthony Leeming
But, he said this month's burial event invite, a miniature statue of Danie De Jager's famous Shawu the elephant, and branded paraphernalia from the hotel would be included.
There would also be photographs of founding father Sol Kerzner and famous guests hosted by The Palace over the last 25 years, among them Michael Jackson and Elton John.
The Lost City complex cost R830 million to construct in 1992.
That was a fraction of what it would cost to build today. We want to reflect the changes – in everything - in our capsule.Leeming said.
He added that what had not changed since inception was the attention to detail, the special care given to guests and the excellent service offered at The Palace.
With our man made jungle, world class golf course, superb entertainment facilities, including our magnificent water park, the Valley of Waves, and gaming facilities, The Palace has been the preferred destination for discerning travellers from around the world.
We have had a very successful 25 years. We know the next 25 will be equally so, and better.Leeming said it was with great pride that he could say