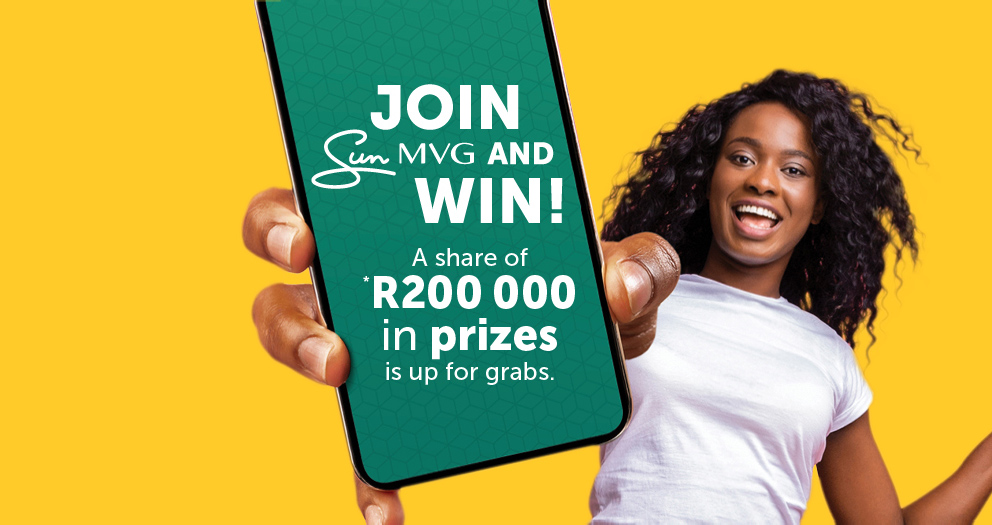 Join Sun MVG
on the Sun International App and WIN!
Want a share of R200 000 in prizes? Then download Sun International's new App and join Sun MVG for a chance to win.
A share of R200 000 in prizes, including a two-night midweek hotel stay every month, is up for grabs when you sign up to Sun MVG, Sun International's loyalty programme, on our new App.
Earn two Casino Points in your sign-up month by playing slots and tables at a Sun International casino and receive R100 Xtra Play (Sun International playing credits) the following month.
How to WIN
Download Sun International's new App;
Sign up to Sun MVG on the App until 31 January 2022;
You will be entered into a monthly draw to win a two-night midweek stay at your favourite Sun International hotel or resort (excl. The Table Bay and The Palace);
Draws takes place on the 6th of every month until 6 February 2022.
Download Sun International's new App to book direct for the best rates,
access exclusive offers and manage your MVG account.
Terms & Conditions
No person under 18 is allowed to gamble or participate in this promotional competition;
Any person who has been issued with a Refusal of Entry order, or who is self-excluded, or who falls into the category of excluded persons, is expressly prohibited from participating in this promotional competition;
This promotional competition is closed to any persons who are directors, members, partners, employees, agents or consultants of or any other person who directly or indirectly controls or is controlled by the company or marketing service providers, or spouses, life partners, business partners or immediate family members;
The promotional competition period is from 1 November 2021 to 31 January 2022 ("the promotional competition period").
Persons who have joined the Sun MVG programme at Sun International casinos and hotels during the promotional competition period are eligible to participate in the promotional competition;
All new sign ups within a particular month within the promotional competition period will be entered into a monthly draw for that month and will be eligible to win a 2-night stay at the casino or hotel property where they visit most frequently.
For new sign ups, all persons who earn two (2) or more casino points in their sign-up month will qualify for R100 Xtra Play in the following month;
All existing Sun MVG members who activate the Sun International Mobile APP will be eligible to receive R100 Xtra Play within a week of registering and will be entered into a monthly draw at the casino they visit most frequently to stand a chance to win a 2-night stay at the hotel at that casino.
Xtra Play rewards earned will only be awarded once off regardless on the number of times a member activates the APP.
Persons who earn twenty five (25) casino points between 1 November 2021 and 31 January 2022 will be entered into the a draw that will be held on 7 February 2022 at Sun International Central Office.
The prize is a stay in the African Suite at The Palace at Sun City valued at R630 000 for two persons sharing which includes accommodation, breakfast, 2x spa vouchers, and food and beverage. All travel related expenses will be for the winner's cost;
The accommodation prizes drawn on 7 February 2022 will be valid for six months from date of issue;
Prizes are not transferable and cannot be exchanged for cash unless otherwise advertised;
Bonus points do not count towards the points required for Xtra Play, nor any specific Sun International casino on property promotions into the Sign-Up draw;
Entries cannot be purchased for cash, Sun MVG points or through any other form of consideration;
The applicable times and dates are listed below for this promotional competition;

Sign-Up Campaign
Month
Xtra Play Date
Accommodation  Draws
November 2021
6 December 2021
6 December 2021
December 2021
6 January 2022
6 January 2022
January 2022
6 February 2022
6 February 2022
Finale
7 February 2022

All decisions are final and binding and no correspondence or appeals will be entered into;
In the event of technical failure or damage to the device used for the promotional draw, irrespective of the cause, another suitable device or method will be used, at the sole discretion of Management.
Any person transgressing the rules of this promotional competition will be disqualified;
Every participant in the promotional competition shall be deemed to have acknowledged and accepted the rules by virtue of their participation;
The above clauses are severable from each other. Should any clause or part thereof be found to be unenforceable by operation of the law, such clause or part thereof will be severed, and the remaining clauses shall remain in force.