People | 15 Aug 2018 | By Sun International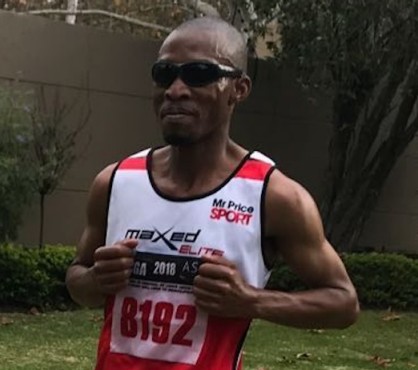 Thandazani Siloane
Running Lacuna restaurant at The Maslow Sandton seems like a walk in the park for Comrades Marathon distance runner Thandazani Siloane who is set to complete his 10th Comrades in 2019. This is his story...
Having completed his ninth Comrades Marathon with his heart set on finishing his tenth in 2019, Thandazani Siloane runs an average of 20km a day when training for the mammoth race. In between the long hours of physical preparation, this passionate athlete also runs a tight ship at one of the top restaurants in Sandton. As The Maslow Sandton's Assistant Restaurant Manager, balancing long hours at work with his running schedule requires careful time management, focus and dedication.
With such a demanding schedule, how does Siloane manage to juggle it all? "This is one of my biggest challenges. My family, my work and my running are all very important to me. Fortunately, my family is very supportive as they understand that I love running. I also manage to find a way to ensure that I create time for my family, for my training and also my work. But this is only possible because I have incredible support," Siloane says.
Siloane's  passion for running started when he was in high school in Durban. "When I was younger, I used to watch the Comrades on TV and I couldn't believe that the human body could endure such a long distance. The desire to compete in the Comrades developed as I got older and I told my friends that I too would run this ultra-marathon one day," he recalls.
Shortly after completing matric, with his sights set on running longer distances, Siloane joined Durban Athletics Club. "My first official marathon was the 50km Chatsworth ultra-marathon in 2009. I couldn't walk after finishing the race and had blisters all over my feet. But I was elated and I used that race as my qualifier for my first Comrades Marathon entry that same year."
Siloane has since completed eight more Comrades and his love for running is contagious. "Staying fit and healthy is great reward in itself, but setting a goal like running the Comrades gives you a sense of purpose outside of day-to-day life. Running is a wonderfully simple sport. You are in charge, and you can run where you want, when you want. Running has a way of teaching you that you are far more capable than you think, but you need to be passionate, dedicated and dig deep to find out how far you can go."
For Siloane, nothing beats the adrenaline and excitement of race day. "It's amazing, painful, life-changing, testing, emotional and difficult. On race day I always feel nervous but once I hear Chariots of Fire playing, I suddenly develop a rush, my hair stands on end and I shiver uncontrollably as I get into 'the zone'. Even though I've done the Comrades route nine time consecutively, every time is different and nothing is more rewarding than crossing the finish line after completing the Ultimate Human Race."