Business | 01 Jun 2018 | By Sun International
The Perfect Choice for a Business Lunch in Sandton, Johannesburg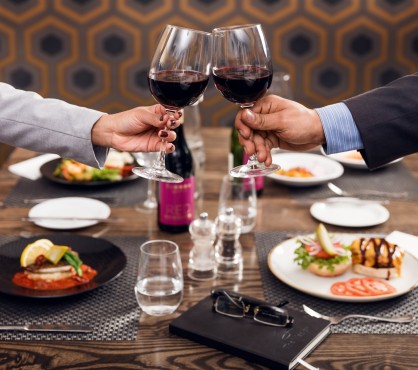 People love going out for lunch for different reasons. For some, it's because they work from home and the idea of preparing another tuna salad is tedious! Going out for lunch also offers that social interaction that a home office just can't provide. And there is no denying that you have more chances of winning a client over or signing a contract in a stylish and relaxed environment.
Business lunches have two aims: discuss the business of the day and, once the formalities are out the way, get to know your future client or business partner in a more intimate and personal way. The flow of a business lunch is crucial to its success. Appetisers and starters are reserved for establishing business goals and aspirations - where do your businesses align and how can you build a strategic partnership? The main course is the opportunity to pitch and propose your winning idea and the number-crunching. Keep dessert for contractual discussions and closing the deal.
From then onwards, it's time to forego the formalities and indulge in the more personal side of your business relationship. Don't get too personal though – coffees or Cognac may signal the end of your business lunch but it's also a prime time to understand your client's interests or hobbies as well as their likes and dislikes. Bridging the gap between business and personal is a balancing act, and you'll need a few more business lunches before you're invited to join a four-ball at your client's next golf day.
Key to a business lunch is choosing the ideal setting in which to do it. The last thing you want to interrupt your lunch is an overbearing waitron, cold food or sluggish service.
A Sociable Restaurant with Excellent Service
Have you ever lunched at Lacuna Bistro, the upmarket bistro at the Maslow hotel in Sandton? Lacuna is quiet yet sociable, the food is contemporary and the service spot on. You know you are in for a delicious treat when you go to a restaurant headed up by Executive Chef Garth Johnson. At just 29, this Warwick Chef School graduate is one of the most sought-after chefs in South Africa.
First-timers and regulars alike will feel at home at Lacuna Bistro as there are a variety of dishes to suit everyone's taste. Choose the Bengal hake tempura with cheeky lemon, jalapeño salsa and seasonal vegetables or the pan-seared farmed sea-bass served with baby spinach, squid paint, parmesan linguine, mussels persillade and bouillabaisse froth… For dessert, why not try the seasonal fruit salad with mint syrup, salted caramel and chocolate tart with clotted cream ice cream among others!
Where would we be without business lunches? Sitting at a table littered with canteen sandwiches in polystyrene boxes in an impersonal boardroom. Like it or not, many business owners prefer to close the deal over lunch in a perfect setting, and The Maslow's business lunching facilities in Sandton offer all that and more.
Mondays to Fridays from 12h00 till 15h00.
Complimentary pick-up and drop-off shuttle route within 3-5km radius, subject to availablity.