Business | 25 Oct 2019 | By Sun International
The natural choice for a Sandton business lunch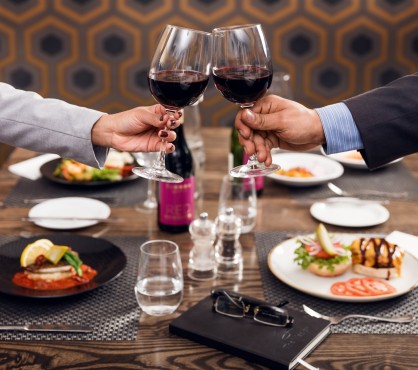 Business lunches have two aims: discuss the business of the day and, once the formalities are out the way, get to know your future client or business partner in a more personal way. A business lunch in a stylish, relaxed environment offers an ideal setting for interaction that an office just can't provide.
Host a great business lunch
The flow of a business lunch is crucial to its success. Just as you'd prepare an agenda for an office meeting, you should have a plan for discussions and desired outcomes. Whenever food (especially when served with drinks) is brought out, people tend to forget about the objectives. Consider the flow of your meeting carefully.
Ideally, use appetisers and starters to establish business goals and aspirations – where do your businesses align and how can you build a strategic partnership? It's also a good opportunity to pitch your winning idea and do some number-crunching before the post-lunch slump. Once you've discussed the bulk of your business, order mains.
Eating while carrying a conversation can be a complicated dance. While one person eats, the other should talk. You should also regularly switch roles, so that plates don't get cold. While you should avoid awkward silences while eating, also steer clear of serious conversation – keep things light, and pick up business when the eating is done.
The time between the end of lunch and dessert is a great opportunity for contractual discussions and closing the deal, with dessert the signal to formally end the meeting. From then onwards, it's time to forgo the formalities and indulge in the personal side of your business relationship. This may be a good time to order coffee or an alcoholic drink and ease into a more casual conversation to cement the relationship.  
The ideal setting is key to a successful business lunch. The last thing you want is an overbearing waitron, cold food or sluggish service.
A sociable restaurant with excellent service
You know you're in for a delicious treat when you go to a restaurant headed up by Executive Chef Mzwandile Hector Mnyayiza. Affectionately known as "Chef Hector", he's one of the most sought-after culinary visionaries in Gauteng, having created bespoke culinary lunches and dinners for well-known companies and brands.
First-timers and regulars alike will feel at home at Lacuna Bistro, as there are a variety of dishes to suit everyone's taste. Choose the Wham bam thank you lamb! asado with cumin flatbread and yoghurt chimichurri, or the halibut with fennel oil, asparagus, saffron prawn beurre blanc, rooibos lime butter, prawn wonton and burnt onion… For dessert, why not try the homemade Ferrero Rocher gelato with nuts and dark chocolate or lemon meringue pie?
Mondays to Fridays from 12h00 till 15h00.
Complimentary pick-up and drop-off shuttle route within 3-5km radius, subject to availablity.