Lifestyle | 29 Feb 2020 | By Sun International
The health benefits of cocktails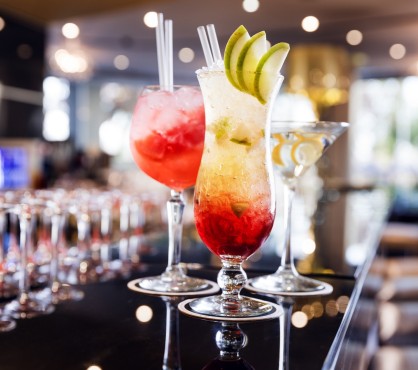 Yes, you read that right: you can drink to and for your health with a cocktail! While alcohol has its downside, if you choose wisely, your next cocktail may boost your wellbeing.
Here's why… Shaken or stirred, you wouldn't normally associate cocktails with being hale and hearty. A hangover, possibly, but good health isn't the first thing that comes to mind when you see a bartender swinging those mixers. Maybe you should reconsider.
Magic Mixers
Mixers are often the number-one culprit when it comes to enlarging your waistline. But the right one can be good for you. Tonic water, for example, contains malaria-fighting quinine. In fact, that gin and tonic (G&T) you crave on a sweltering day is a British army invention devised to encourage troops to take their meds during the Indian conquest in the 1600s. To make the bitter tonic more palatable, they added citrus fruits and other botanicals.
Another good mixer ingredient is ginger, known for its anti-nausea and anti-inflammatory properties. It's a good source of vitamins A, C, E, and B, magnesium, phosphorus, potassium, sodium, iron, zinc, and calcium. Phew!
Try This: The Cranberry and Thyme G&T, made with fresh cranberry juice and a sprig of thyme, is a must-have.
Better Bitters
Bitters is an alcoholic flavouring agent made from seeds, herbs, roots, and/or flowers. They're used to spice up a cocktail. Many well-known brands, such as Angostura Bitters, were coveted for their medicinal properties – so the belief that bitters can be beneficial for your health is not far-fetched. Bitters can help with digestion, curb sugar cravings, boost your immune system and even ease stress.
Try This: A Woodford Ol' Fashioned, with Woodford Reserve bourbon, cola syrup, Disaronno liqueur, and aromatic bitters.
Cola not your speed? Go for a Monkey Sours, a vanilla-based take on the classic Whiskey Sours. We make it with Monkey Shoulder bourbon, vanilla syrup, fresh lemon juice, and cellulose, topped off with aromatic bitters.
A side of salad
What's a "gin salad"? The herbs, berries, and spices like nutmeg and lemongrass that are added to many gin-based cocktails have many health benefits. For example, a sprig of rosemary often used in a G&T is a good source of iron, calcium, and vitamin B6. The herb has also been used to alleviate muscle pain, improve memory, and boost the immune system. To reap the full benefits, ask your barman to lightly crush a sprig before putting it in your drink.
Fresh fruit and citrus peels are also great cocktail additions. They're rich in polyphenols, which are stuffed with antioxidants and potential health benefits. In fact, just 1 tablespoon (6g) of orange peel provides 14% of your daily value of vitamin C — nearly 3 times more than the flesh of a single fruit!
Try This: A Traffic Relief, made with Absolut vodka, berry syrup, fresh lime juice, and mint from The Maslow's organic herb garden.
Cocktails may have health benefits, but be sure to choose wisely. Mixed drinks that use fresh fruit and herbs and don't contain added sugar are the way to go. Drink a glass of water in-between cocktails to avoid dehydration and that dreaded hangover.
Here's to your health at The Maslow Sandton
Cap off a long day at Lacuna Bar at The Maslow Sandton with a well-deserved G&T or a designer cocktail during SA Cocktail Week, from 29 February to 7 March. The Maslow Sandton is also home to Lacuna Bistro, one of the best restaurants in Sandton, which serves some of the best sushi in the city to enjoy with your cocktail. Oh, did we mention the free parking?