Business | 24 Sep 2014 | By Sun International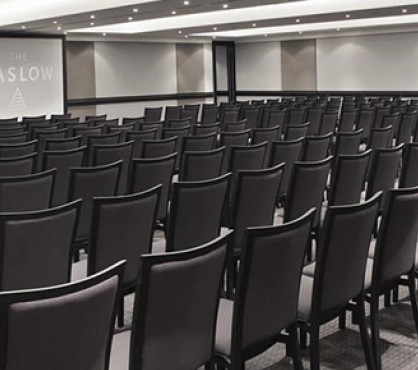 10 Tips for Planning a Successful Conference
Whether it's a breakfast panel discussion, an all-day event or a multi-day annual meeting, planning a conference is no easy feat. It takes research, sourcing, booking, scheduling, and most importantly, organising.
If you're about to plan a conference, here are a few tips to help get you from the ideas phase to hosting a successful event.
1. Plan well in advance
While there is no hard and fast rule, larger conferences can take months to plan correctly, whereas smaller events could be successfully pulled off in a matter of weeks. However, start planning your conference as soon as possible to give yourself time to juggle your budget and any unexpected snags that may pop up. Timely preparation will also give you the safety net of a plan B.
Quick checklist: Try to finalise all major contracts, such as venue and vendors, a full month before the event date.
2. Brainstorm
Whether your conference appeals to a niche market (like a craft fair) or a given list of attendees (like the annual general meeting for your company), you should have a good idea of who will be attending, and what they hope to gain from the experience at the end of the day. Put pen to paper and start brainstorming innovative ideas to meet your conference goals.
Quick checklist: What is the conference about? Who will be attending? Where is the best location to accommodate the attendees? When is an opportune date to schedule the conference?
3. Budget knows best
Your budget is one of the most integral steps of the process, as it will set the parameters for your goals. With the information you've brainstormed, write out a solid plan. Map out what your budget and where you plan to direct it.
Quick checklist: Consider what's required to make your conference a success. Will there be guest speakers? Will there be entertainment? Will you need catering? Set aside budgeted amounts for each of these considerations.
3. Location, location, location
With your budget in place and an approximate number of participants in mind, select a venue that will fit your bottom line as well as your style, size and space requirements.
In Johannesburg, the Maslow Hotel's Conference Centre and Meeting Rooms have been pragmatically crafted with innovative technology and facilities to cater to all of today's business needs.
Thirteen meeting rooms are located away from the Conference Centre and isolated from the rest of the hotel to ensure uninterrupted productivity. Each meeting room opens onto lush gardens to create the perfect environment for workshops, strategy sessions, training events and team-building. Review The Maslow's seminar packages here.
Quick checklist: Consider your audio-visual needs (including power sources and their locations), transit requirements (do you need to be near an airport?), parking necessities and lodging needs for overnighting attendees. Then make sure that your venue supports all of the above. (And yes, The Maslow does.)
4. Negotiate with vendors
Begin working with service providers as early as possible. Understand what will be provided in each case and review contracts and cancellation policies carefully.
Quick checklist: Before a conversation with a vendor, make a list of everything you need from them, determine your budget and then give them a number that is 5 - 10% lower. There are always hidden costs (post-event taxes, service fees, etc), so allow for some leeway. Go through the proposal with a fine-tooth comb and tell them which sections of the estimate are too high.
5. Choose your guest speakers
Find speakers and presenters that are exciting, innovative, knowledgeable, and pertinent to the expectations of your guests. A good keynote speaker can make or break your event. Find out their expected remuneration, requirements for set-up and availability.
Quick checklist: When communicating with a speaker, provide ample details so that they can customise remarks to your audience and make sure you are on top of their travel arrangements and other needs.
6. Get support
A good project needs great staff. You will need to secure staff for both the planning process and the day of the event. Don't forget to account for security, catering, AV support and merchandise vendors where necessary.
Quick checklist: Delegate. Assign portions of the event (set-up, registration, catering) to each team member and be sure to follow up accordingly.
7. Set the agenda
Draft a detailed timeline for your conference that starts early (08h00) and ends within a reasonable timeframe (16h00). Schedule a mix of formal speakers, small group workshops and free networking time. Plan to feed your participants every few hours with a full meal and snacks.
Quick checklist: After the day's agenda is complete, consider hosting a dinner at a nearby restaurant or provide for local entertainment, such as a city-sightseeing tour.
8. Managing attendees
Establish a workable registration system for attendees. Use a web-based ticket company for online registration to ensure the process on the day runs smoothly. Consider whether you'll be handing out conference packages to attendees on arrival and whether these require added items like company swag.
Quick checklist: Pay attention to the details. If you're handing out lanyards with nametags, ensure that the tags are neatly printed, have all the sponsor logos required, and that all names are spelled correctly.
9. On-site details
Do site inspections and a detailed walk-through of your event from start to finish. Consider details such as how people will find their way to your conference and how you'll be distributing food and drinks. Be as critical as possible during the walk-through in order to anticipate or solve any issues before they escalate.
Quick checklist: Review everything that you have in place and double-check your plan B.
10. Create an Event Bible
No matter how perfectly you've planned the conference, on the day you'll more than likely be hectic and bogged down by small details. Put together an Event Bible, and make sure it's readily available to your key team players.
Quick checklist: Your Event Bible should include all of your vendor contracts and contact details, extra copies of the floor plan and cheat sheets of information for easy reference.