10 Jul 2018 | By Sun International
Growing Performance Art in South Africa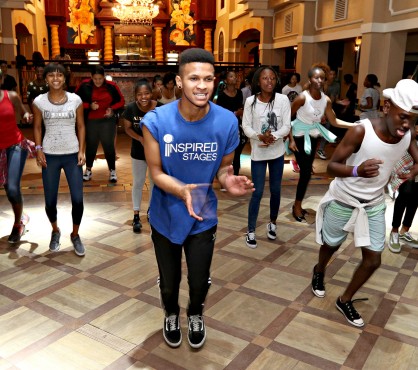 To help grow and develop the performing arts sector in South Africa, GrandWest Casino and Entertainment World, along with Golden Valley and Carousel in the North West Province, have stepped up efforts to support youth development programmes in their respective regions. To facilitate this objective, the Inspired Stages Trust has been formed in conjunction with GrandWest's socio-economic development (SED) team to identify and spearhead initiatives that aim to empower youths from disadvantaged communities across the province. Through the Inspired Stages Trust, talented Western Cape teenagers will now be given the chance to learn significant skills to help them foster a career in the performing arts.
After the first Inspired Stages competition was held at GrandWest in April, the competition now heads to Worcester, with workshops being hosted at Golden Valley during the winter school holidays. Aged between 13 and 19, attendees have been selected based on their interest and talent for the stage – this includes acting, producing, directing, set design and stage management. With the greater aim of inspiring participants to achieve excellence in their lives through self-discovery, teenagers will learn how to harness and develop their passions for the performing arts in a safe and supportive environment. As one of a few NGOs in Cape Town that supports youth development, the Inspired Stages Trust will also give aspiring young artists the chance to be mentored by some of the country's top musicians, theatre professionals and experts.
"Sun International decided to get involved with this Cape Town NGO as it enables the Western Cape youth to harness their passion for the performing arts while learning valuable lessons about life. We hope that with support they will ultimately be able to excel in their field of choice, taking their talents to the next level and eventually making careers out of it both on and off the stage."says Heidi Edson, Sun International's SED Manager.
Through Sun International's sponsorship, the Inspired Stages Trust will cover all the fees for the workshops (including facilitators, special guests and mentors) as well as T-shirts, transport and technical equipment. The workshops will culminate in a finale performance, with the attendees showcasing what they have learnt on the course.
About the Inspired Stages Trust
The Inspired Stages Trust is a charity organisation in Cape Town that empowers young adults by holding workshops that support their passion in the genres of education, performance and production – both on and off the stage. As one of many non-governmental organisations in Cape Town that Sun International supports, the ultimate mandate is to teach the youth how to live an enriched and successful life by harnessing various techniques involving the performing arts. Young people are also encouraged to pass on the skills and lessons they learn to other members in their communities, creating an even larger impact.