23 Jul 2018 | By Sun International
GrandWest celebrates 75 years of SHAWCO with a mobile health clinic drive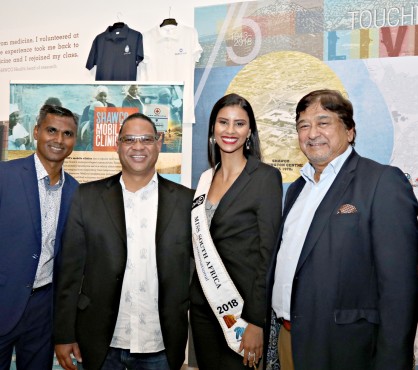 The University of Cape Town's SHAWCO (Students' Health and Welfare Centres Organisation) is celebrating 75 years of providing healthcare, thanks to sponsors like GrandWest.
SHAWCO is a non-profit organisation that provides primary healthcare to 5 000 previously disadvantaged patients in the Western Cape and rural Eastern Cape every year. The organisation uses fully equipped mobile clinics so that patients can be treated close to their homes. GrandWest is the organisation's largest sponsor in recent years, having donated more than R21million to SHAWCO Health over the last ten years. GrandWest's sponsorship to date has allowed for 137 clinics to be run, treating 2442 people with 889 student volunteers.
To celebrate this 75-year milestone, GrandWest, through its funding, supported a 750km for Health rural mobile health outreach in the Western Cape.
"This was a heart-warming initiative," says Heidi Edson, Group Socio Economic Development Specialist at Sun International. "These clinics manned entirely by volunteers - 40 student volunteers, volunteer doctors, occupational therapists, nurses and dentists - travelled 750km around the rural Western Cape providing medical assistance to more than 500 patients over four days," she said. "They reached communities that have suffered healthcare inequality and are in need of basic health screening and education. The mobile clinics focused on vaccinations, testing and referrals, medical screening, prescription of medication and health education."
On 18 July 2018, Mandela Day, SHAWCO hosted the opening of the SHAWCO exhibition at the South African Jewish Museum in Cape Town, attended by the recently crowned Miss South Africa, Tamaryn Green, on behalf of Sun International. The exhibition called 75 years of Touching Lives: The SHAWCO Story, features photographs, newspaper articles, interviews, and anecdotes by SHAWCO student volunteers (past and present), the UCT community, and people living in the communities where SHAWCO works. The exhibition will be open to the public on 19 July 2018 until 30 September 2018.
"We are honoured to be in a position to support such a worthwhile organisation," said Edson. "Since its establishment in 1943, SHAWCO has become a pillar of healthcare in the province. We hope to remain involved as they provide essential healthcare to people who need it most."