People | 08 Dec 2017 | By Sun International
GrandWest Feeds Hope in Mitchells Plain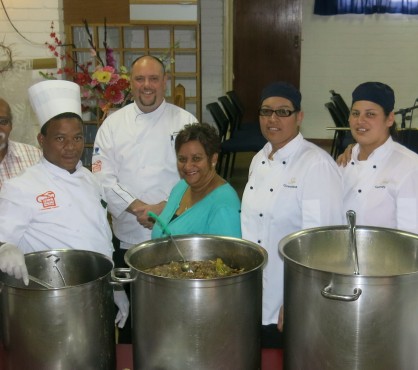 On 28 September 2017, a team of eager volunteers left the GrandWest kitchens to spend the day in Tafelsig, an impoverished neighbourhood in Cape Town's Mitchells Plain. The goal? To prepare a hearty and nutritious meal for over 800 people at the United Reformed Church, and spread a little hope in the process.
Part of GrandWest's Chefs that Care initiative, the journey to deliver sustenance and hope to those in need saw the chefs serve up a scrumptious meal which included mince and rice, a mixed vegetable casserole and a delicious dessert to the community.
What is the Chefs that Care Initiative?
The Chefs that Care initiative was born from the desire of GrandWest's food and beverage team to use their skills and passion to make a positive impact on the lives of those less fortunate in surrounding communities.
With unemployment rife in many Western Cape communities, coupled with the high cost of living,
the reality is that many people do not have access to one balanced meal a day. Among the most marginalised and most affected are children and the elderly. Sadly, their nutritional requirements are not being met, resulting in a compromised quality of life and poor health.
Alleviating hunger is something that will always be close to our hearts. We feel privileged to be able to continue with this programme and help feed those less fortunate in our communities.says Wynand Schoeman, executive chef at GrandWest.
Making a Difference, One Meal at a Time
With the support of GrandWest and sponsors, including Bidfood, Palmans Foods, Green Scene, Hanco Packaging, Espresso Bakery and Maitland Farm, the Chefs that Care initiative has prepared and shared over 2 700 meals, and donated supplies to two soup kitchens.
"As chefs, we recognise that we have the ability to make a difference by using our knowledge of food preparation and nutrition for the betterment of those in need," says Schoeman.
Ongoing Support
GrandWest's Chefs that Care has seen the team travel into some of the poorest communities in the Western Cape where unemployment, gangsterism, child-headed households and poverty are rife.
Between August 2016 and January 2017, Chefs that Care helped feed 100 adults once a month at the First Feed Elim Night Shelter. Other interventions include feeding children and adults in Mitchells Plain, Pelican Park, Ottery, Strandfontein and Schaapkraal.
For Schoeman and the volunteers spreading hope, "the looks of gratitude on the faces of those whose lives we've touched is all the inspiration we need".
To learn more about Chefs that Care and other community initiatives, follow GrandWest on Facebook and Twitter: @GrandWestSA.