Entertainment | 10 Jul 2015 | By Sun International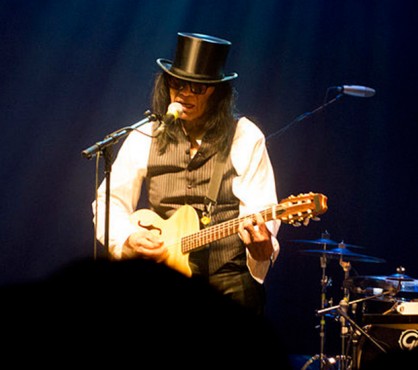 Rodriguez Live in concert
If you haven't heard yet, (seriously, where have you been?) you can see Rodriguez live in Cape Town at GrandWest when the Sugar Man returns to South Africa in February 2016. This spells sweet news for fans of the legendary Mexican-American songwriter. In fact, Rodriguez, in South Africa, enjoys something of a cult status.
South Africa has always had a sweet spot for Rodriguez, whose anti-establishment music and poignant lyrics channeled both our political beliefs and the plight of the less fortunate, particularly during the Apartheid years. But if you wanted to listen to Rodriguez in South Africa during this time, you had to do it in secret. His music was banned from our shores for many years.
This, added to the fact that he hadn't released new music for decades and seemingly disappeared off the face of the earth, appeared to thrust Rodriguez into the realm of mythical legend. Imagine our surprise when he arrived on our shores for a live concert in 1998? There is no other musician in the world that can claim he came back from the dead.
Do you know your Rodriguez facts from your Sugar Man fiction?
Let's play: Mythbusting Rodriguez!
Rodriguez was born in Detroit, Michigan to immigrant parents from Mexico. He never found fame in America, and simply faded into oblivion after releasing two unappreciated albums in the 1970s. Status: Fact (Although, since the release of the award-winning documentary Searching for Sugar Man, his career has seen a belated upswing in his home country).
After the failure of his two records, Rodriguez quit his music career and purchased a derelict Detroit house in a government auction for $50. He lives there to this day. Status: Fact.
He was entirely unaware of his fame in South Africa. Despite his success abroad, Rodriguez's fame in South Africa had remained unknown to him until his eldest daughter came across a website dedicated to him in 1997. Status: Fact. 
Rodriguez was so famous that his records outsold those of Elvis Presley. Status: Fact.
Anti-Apartheid activist Steve Biko was reportedly a massive Rodriguez fan. Status: Unconfirmed, but we'd like to think this is a fact given the anti-establishment themes so prevalent in Rodriguez's music.
The common belief about Rodriguez in South Africa was that he'd committed suicide on stage. In one story Rodriguez is said to have pulled out a pistol and shot himself and in another, he set himself alight in front of a live audience. Status: Fiction (obviously, as you get to see Rodriguez live in Cape Town next year).
It was thanks to two die-hard South African fans in the 1990s who had made it their mission to find him, that Sugar Man fans got to see Rodriguez live in South Africa for the first time. Status: Fact.
Catch Rodriguez live in Cape Town at the Grand Arena on Friday the 5th and Saturday the 6th of February 2016.
Get your tickets to see Rodriguez in South Africa at GrandWest through Computicket and Viagogo. Tickets range between R395 and R680. You better hurry, they're going fast.
Need more reasons to see Rodriguez live in Cape Town? Have a listen to this Rodriguez playlist and let his music speak for itself.
1. The Song Everybody Knows
http://youtu.be/qyE9vFGKogs
2. The One That'll Make You Wonder
http://youtu.be/t6bjqdll7DI
3. The One For The People
http://youtu.be/fgQ-QrCFMjs