05 Jun 2017 | By Sun International
Lady Antebellum South Africa Tour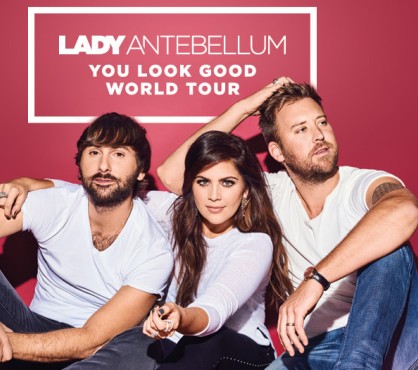 Multi-platinum country music trio, Lady Antebellum is coming to South Africa! Hillary Scott, Charles Kelley and Dave Haywood will take to the stage at GrandWest in Cape Town on 13 October 2017 as part of their You Look Good world tour. This will be the first time that the group, formed in 2006, will be performing live in South Africa.  
Ahead of the Lady Antebellum South Africa tour, we've compiled 10 things you don't know about the country superstars:
All in a name
"There's a great band name in there!" said one of the group while photographing antebellum homes, an architectural style that describes the large pre-Civil War plantation homes in the American South.
A different Idol
When you're watching Lady Antebellum live in concert at GrandWest, consider this: Before hitting the big time with Lady A, Hillary Scott auditioned for American Idol — twice — and was rejected both times! "I literally performed for the production assistants and the interns, and
I just didn't make it," she told ET Online.
Summer food is a fave
In an interview with the Tampa Bay Times, Hillary Scott said she loves touring in summer because of the food available at fairs and festivals. "I'm a huge fan of chocolate bananas, I love those! They're frozen like a popsicle." We wonder which of GrandWest's food outlets will tickle her appetite when the band comes to South Africa for their Cape Town concert. Any guesses?
Awards
In 2008, Lady Antebellum was awarded Top New Duo or Group by the Academy of Country Music and New Artist of the Year by the Country Music Association, and the trio has won six Grammy awards.  
Love stuff
Before marrying Nashville-based drummer Chris Tyrrell in 2012, Hillary Scott relied on her bandmates to give their seals of approval on guys she was dating. "They're like the big brothers I never had," she said in an interview with country music website The Boot. "It definitely means the world what they think."
Family connections
Lead vocalist Hillary Scott is the daughter of country music singer Linda Davis, best known for her duet vocals on Reba McEntire's 1993 hit Does He Love You?, while Charles Kelley is the brother of US pop artist Josh Kelley. Think of them as music royalty… and they're coming to South Africa!
Debut for the win
The group made its smash-out debut in 2007 as guest vocalists on Jim Brickman's single Never Alone, before signing to Capitol Nashville. The rest, as they say, is history. Tell us, are you excited that they'll be debuting their Lady Antebellum South Africa Tour at GrandWest?
Album successes
Lady Antebellum's first three albums are certified platinum or higher by the Recording Industry Association of America (RIAA). Nine of their singles have reached number one with Need You Now in the top spot for five weeks in 2009. Which single will you be singing along to when you watch Lady Antebellum live in Cape Town?
Music with heart
In 2013, Lady Antebellum created the organisation LadyAID, which hopes to raise awareness and support for hospitalised children in the United States and Canada.
Post-show refreshments
After every show, Hillary Scott drinks a refreshing Bacardi mixed with Sprite Zero, a beverage inspired by fellow US country music singer Miranda Lambert when the two toured together some years ago. If you could play bartender for the singer, which mix would you make after the live Cape Town concert?