Entertainment | 25 Jan 2015 | By Sun International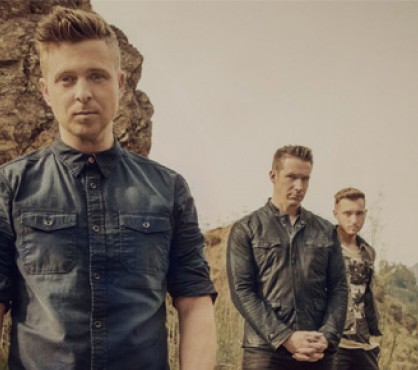 5 Things You Don't Know about OneRepublic
OneRepublic fans, hold on to your hats (and by hats, we mean your fedora that reminds you of Ryan Tedder). The "Apologize" stars will be bringing their Native World Tour to our shores in 2015. If you want to see OneRepublic in South Africa, you can catch them in the flesh at the GrandWest Casino on the 21 June.
The tour has already sold out 158 performances across the world, meaning you can't waste anymore time getting your hands on OneRepublic show tickets. It's definitely one of those Cape Town events that you don't want to miss out on!
Think you know everything there is to know about OneRepublic? Here are 5 facts about the boys from Colorado Springs
1. While Ryan Tedder is best known for being OneRepublic's frontman, he has an independent career as a songwriter and producer for artists such as U2, Adele, Beyoncé, Birdy, Maroon 5,Ariana Grande, Jennifer Lopez, James Blunt, Taylor Swift, Gwen Stefani, and scores of others. That's impressive!
When recording "Rumour Has It" with Adele, Tedder was blown away by the singer's musicality and vocal prowess after she completed the main vocals to the song in 10 minutes. Tedder commented that he'd never had anyone do that in 10 years. His work with Adele scored him a Grammy Award for Album of the Year at the 2012 Grammy Awards.
2. It could all have been a very different story for Ryan Tedder (and the rock world), had he not made the decision to follow his heart and break away from mainstream pop. At the height of the boy band boom, Tedder turned down a recording contract from Lance Bass's now defunct Free Lance Entertainment.
In an interview on the OneRepublic website he comments, "How could I ever take myself seriously, if I was embarrassed by what I was singing? I wanted more than just a catchy tune. There's nothing like a good pop song, but there's a fine line between accessibility and credibility, and that's the line I want to walk."
3. It's no secret that OneRepublic's axe man, Zach Filkins, dabbled in modelling during his years in Chicago, but did you know that there are still packs of Jockey underwear around that use photos of his torso on the packaging?
Not just a pretty face, Filkins spent a significant part of his childhood studying classical guitar in Barcelona, Spain. He speaks fluent Spanish and always talks to the crowds in Spanish-speaking countries.
4. A portion of the proceeds from the gospel-influenced single "Feel Again" (off their Native album) was donated to Save the Children's Every Beat Matters campaign to support training frontline health workers around the world.
Tedder has said that their partnership with Save the Children was serendipitous and it actually helped him finish the lyrics to the song.
5. Ryan Tedder has performed "Apologize" so many times before that he says the song has become like muscle memory for him. He told ET Canada, "I could probably write a lyric to another song while I'm singing 'Apologize' because I've done it a million times".
The song launched OneRepublic into stardom and was ranked #50 on the list of the Billboard Hot 100's All-Time Top Songs list from the chart's first 50 years. It was also ranked #10 on the Billboard Hot 100 Songs of the Decade and was OneRepublic's biggest hit single in the United States until "Counting Stars" was released in 2013.
Want to see OneRepublic live at the GrandWest Casino in Cape Town? Here are the details:
Sun 21 June 2015 | Grand Arena, GrandWest Casino and Entertainment World, Cape Town | Ticket price: R395 – R595