Conferencing & Meetings | 26 Jul 2015 | By Sun International
SunExhibits: The new Cape Town Exhibition Centre at GrandWest
If you attended the magnificent King Tut Exhibition at GrandWest recently, you'd have noticed that the Cape Town exhibition centre had undergone something of a 'magical' transformation (that's if you were able to tear your eyes away from the incredible Egyptian artefacts). However, it wasn't the casual wave of a wand that transformed the Magic Castle into the new SunExhibits Centre, but hours of logistical planning.
If you're looking for event venues in Cape Town, here's the lowdown on GrandWest's new Cape Town exhibition centre, and how the area formally known as the Magic Castle was transformed into the new SunExhibits Centre, in order to accommodate King Tut.
King Tut is an internationally acclaimed exhibition, which spans over 2000 square metres of space. Because the Magic Castle offered a breezy area of over 3000 square metres, it provided the perfect location for GrandWest's new Cape Town exhibition centre.
Additionally, the SunExhibits Centre's staggering roof height of 6.8 metres in the centre, which tapers down to 6.3 metres on the perimeter wall, provided the perfect space for some of King Tut's more sizeable exhibits.
Besides the size of the Cape Town exhibition centre, organisers wanted the expo to be easily accessible and secure, and the venue needed to be capable of offering additional entertainment, food, and beverage choices. Located at GrandWest, SunExhibits offers expo goers easy access to a range of outlets, ample space and secure parking.
Everything about SunExhibits is new and shouts quality. New blue-grey carpets were installed and the pylons been painted a dark grey, which provide the perfect backdrop for any event or exhibition. King Tut's golden treasures literally gleamed in this flawless setting.
A large armada of forklifts, scissor lifts and material lifts forged their way around SunExhibits to install specialised lighting, sound and computing equipment to effect the transformation that visitors witnessed at the King Tut exhibition.
11 containers carefully packed with replicas, stands, projectors and other equipment followed to complete the technologically advanced puzzle that made up the King Tut exhibit.
The conversion of the venue took 14 days to complete by a dedicated team of 15 installers specially flown in from Germany. They were supported by a similar-sized team of local experts.
The exhibition faithfully reconstructed the tomb of Tutankhamun to scale and presented over 1000 exquisitely replicated burial treasures produced by the finest Egyptian craftsmen under scientific supervision. These exact replicas, coupled with state-of-the art technology and video material, provided a vivid illustration of the culture and spiritual world of the ancient Egyptians.
Beautifully transformed for the expo, SunExhibits Centre's versatility and capacity for hosting grand-scale, themed events and expos is indisputable.
GrandWest has added this incredible new Cape Town exhibition centre to its already well-positioned entertainment and conference hub that is situated adjacent to the Magic Company. The versatile event venue in Cape Town can accommodate large amounts of visitors, depending on the kind of exhibition hosted in the space.
If you're looking for event venues in Cape Town to host exhibitions, launches, conferences or open market days, SunExhibits will tick all the right boxes for you.
For more information, follow @GrandWestSA on Twitter and GrandWest Casino And Entertainment World on Facebook.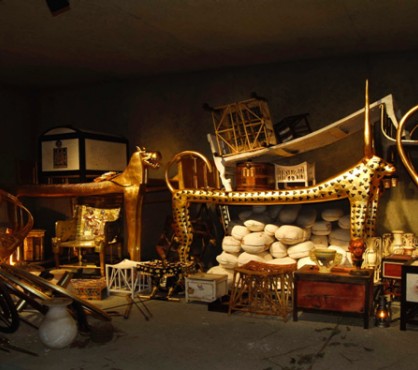 SunExhibits: The new Cape Town Exhibition Centre at GrandWest
GrandWest's new Cape Town exhibition centre, SunExhibits, recently hosted the internationally acclaimed King Tut exhibition.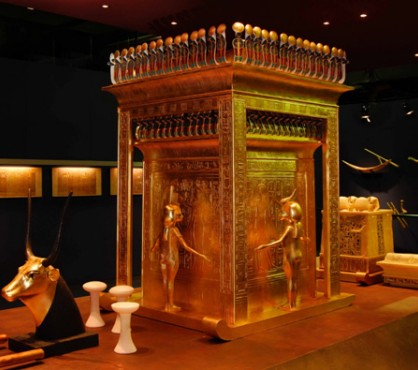 SunExhibits: The new Cape Town Exhibition Centre at GrandWest
When looking for event venues in Cape Town, King Tut organisers were impressed with the size and additional offerings of GrandWest's new SunExhibits Centre.