Golf | 10 Aug 2017 | By Michael Vlismas
Immortality Awaits at the 2017 US PGA Championship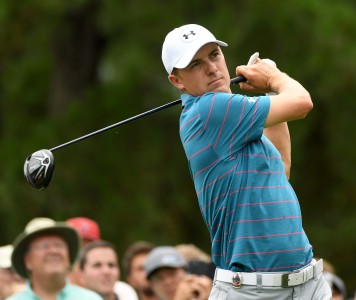 Jordan Spieth | Photo by Getty
Jordan Spieth says Rory McIlroy is the man to watch. McIlroy says it's Spieth. And everybody else is on Grand Slam watch as the final Major of the year – the US PGA Championship – tees off at Quail Hollow on Thursday.
Spieth – the man who had club golfers around the world horrified at how far right he drive it on the 13th at Royal Birkdale, and then humbled by what he did from there – is seeking his place in the most exclusive club in golf: the career Grand Slam.
It's a club of five at present, including Tiger Woods, Gary Player, Ben Hogan, Jack Nicklaus and Gene Sarazen.
It's Grand Slam season in golf at present. That rare moment in the history of the game when greatness in golf focuses more on just winning the ultimate prize, a Major, and shifts to that one thing that is bigger – winning all of them.
So beginning this week, the next three Majors will have a Grand Slam focus to them.
Spieth has the chance to get there first before any of the other young stars of his generation. McIlroy will have his shot at golf immortality in next April's Masters. And then Phil Mickelson has the chance to strike a blow for the over-40s when he will once again attempt to add the one Major that eludes him – the US Open.
Few would bet against Spieth taking his place amongst the game's greatest this week. After all, there is a sense of the immortal in the air in the Majors at the moment.
South Africa's Branden Grace has achieved scoring immortality after his 62 in the Open, which gives him ownership of the lowest score ever recorded in the history of the men's Major Championships.
This week Ernie Els will play in his 100th Major. Phil Mickelson will do the same. This alone is an exclusive club, with less than 20 players in golf history having reached this milestone, which requires a blend of longevity and consistency at the highest level for decades.
The other South Africans in the field are Dylan Frittelli, Charl Schwartzel, Louis Oosthuizen, Brandon Stone, Richard Sterne and Grace.
Player is still the only South African to win the PGA Championship (twice in 1962 and 1972). Zimbabwe's Nick Price also won it twice in 1992 and 1994.