Golf | 26 Feb 2018 | By Michael Vlismas
Junior trio earn their place in Tshwane Open pro-am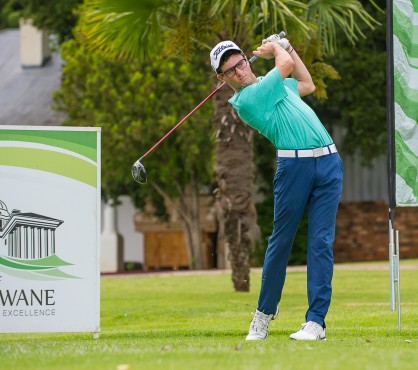 Alessio Graziani | Photo by Tyrone Winfield
Alessio Graziani earned the right to tee it up in the pro-am of a major Sunshine Tour and European Tour event when he won the Tshwane Open Junior Tournament at Irene Country Club on Sunday.
The 16-year-old Curro Thatchfield student won the overall title with a round of two-under-par 70 to lead the three players who qualified for a place in the pro-am of the Tshwane Open at Pretoria Country Club this Tuesday.
Michael Hempel won the B Division on a count-out on seven-over 79, while William Reyneke was first in the Under-13 Division with a round of four-over 76. They are the other two players who will join Graziani in the Tshwane Open pro-am.
"It feels amazing. It's such a confidence booster. I'm proud of myself," said Graziani. "The course played very well and in my favour. They played it slightly longer which favoured me. I pulled out my driver quite a bit and was hitting it well. I hit a lot of fairways and the putts were dropping."
Graziani's victory comes amidst a good run of form, with him having also won the Gauteng North Junior 18 Hole at Woodhill Country Club in January.
"My golf is peaking this year. This has been my best year so far. I battled a bit in the past but everything seems to be coming together this year. I've sorted out my short and long game, and I feel a lot more in control of my game out there."
With a field including a mix of Sunshine Tour and European Tour stars set to tee it up in this week's Tshwane Open, Graziani said he has no particular preference who he'd like to play with in the pro-am.
"I look up to a lot of Sunshine Tour pros so if I can play with any one of them I'll be chuffed."