Golf | 04 May 2017 | By Michael Vlismas
The Mental Strength Required to Be the Best Golfer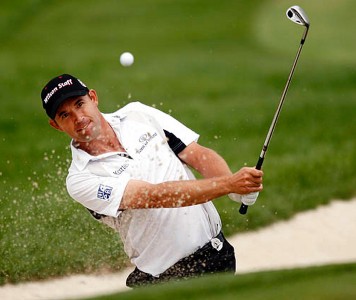 Padraig Harrington
For years, Padraig Harrington was frightened to death of it. That moment when he thought he would wake up and "it" would be gone.
"My first 13 years on tour were based purely on fear, fear of losing and fear of it going away," he said in Durban a few years ago about the prospect of suddenly losing his ability to play golf at a decent level. "Sometimes that's not a bad thing. It certainly motivates you when you're afraid of it all disappearing. Every single book will tell you that fear is not a good motivator, but it seems to work very well for me."
Playing from this position of fear has won Harrington a number of tournaments and Majors.
But Dr Jannie Botha, a sports psychologist who has worked with Charl Schwartzel and a number of the country's top rugby players, will tell you Harrington is mad.
"There are two things that will influence performance for the rest of your life. You need a good foundation, and you need a good focus. And when it comes to your foundation, you either function from fear or you function from confidence," he says.
"Golfers functioning from fear freeze at the wrong time. They will practice and try hard, but they will make mistakes. And when they make mistakes they don't enjoy it anymore, and then the fear becomes bigger. So they try harder and practice harder. Their problem is not the practice. It's their foundation. "When your foundation is confidence then you can release everything you do without worry. You practice hard because you have confidence."
Botha insists that a golfer's confidence stems not from his performances, but other more subtle elements. "The interesting thing is that a good round of golf or a good shot can never give you confidence. It can only confirm confidence. I always teach golfers that confidence has four key words to it – Preparation, Ability, Motivation and Attitude. If you can tick those four boxes, then you have confidence."
Golfers are also renowned for their ability to focus during a round. But according to Botha, the question to ask if what your focus is on?
"We all focus, but are we focusing on the right things? You either focus on implementing or you focus on the end result. The moment you focus on the end result and it doesn't come off, then you're in trouble."
This reminded me of a conversation I had with cricketer and then coach Gary Kirsten. Kirsten said that focusing less on the result and more on the purpose was the secret behind his success as a batsmen and later as a World Cup-winning coach of India and then guiding South Africa to the number-one Test ranking in the world.
"When you take the focus away from the result and look at why we're doing what we're doing, you create an environment where everyone can be at their best. My goal has always been to build a team where the focus is not on the rewards but on what we're doing as a group to achieve success together."
It's exactly this that Botha also advocates as the secret to a golfer's success.
"When you focus on the result and the result doesn't come off, you get frustrated and anxious. That anxiety then builds and you make more mistakes. The more mistakes you make, the less you enjoy it. And when you don't enjoy something, it builds fear. Then you try harder. Why? Because I want a good result.
"In golf, when you focus on implementing then you're able to play the shot. You don't worry. When you focus on implementing and not on the result, you will see the result happening.
"But if you get to the 16th hole and you're one shot behind, and you shift your focus to thinking about making a birdie, you're in trouble. When you shift your focus, you are in trouble."
Another element of success is Big Match Temperament (BMT).
"They say practice is 90% physical and 10% mental, and competition is 90% mental and 10% physical. So what's the difference? In a single word, it's pressure. Understanding pressure and being able to function under pressure," says Botha.
"To be able to function under pressure, you need BMT. But here's the interesting thing about BMT, only 2% of sportsmen have natural BMT. The other 98% have to learn BMT. And you can learn it. But the other problem is that when you ask the 98% if they have natural BMT, 95% of them will say yes. Yet not one of them will actually have it.
"But you can learn it. The way to learn it is to get mentally tough. To be able to function at this level of golf you need to be mentally tough. "And mental toughness is all about training. You don't just become mentally tough. You train yourself to be mentally tough. "Look at two golfers as an example. Rory McIlroy has natural BMT and was number one in the world. Jason Day does not have natural BMT and was also number one in the world. So it can be learned."
And nowhere in sport does it perhaps need to be learned more than in golf, where you are completely exposed to your ability or lack thereof to deal with pressure. And to deal with that nagging feeling Harrington had – that this time, when you step on the first tee, how do you know you'll be able to hit the ball as well as you did yesterday, or last week?
"With golf, you do find it for very short periods of time, and that's the problem," said Harrington.
"We are teased at times that we think we have it, and then it all goes away. The fact that you have it for a few days or even a round, you just want to have that feeling back again."