Golf | 04 Dec 2021 | By Michael Vlismas
Heavy storms suspend play in 2021 SA Open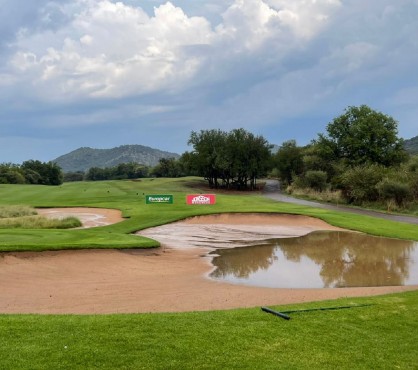 Gary Player Country Club Golf Course | Photo by Sunshine Tour/Justin Sampson
The third round of the South African Open Championship was suspended as a result of heavy thunderstorms that hit Sun City on Saturday.
Play was suspended at 13h04 because of inclement weather. There were two attempts made to restart play but the presence of continued storm activity as well as a waterlogged Gary Player Country Club course forced the decision to abandon play for the day at 17h00.
The third round will resume at 07h00 on Sunday, and the fourth and final round will not start before 09h00.
"The safety of the players is our foremost concern. We had planned for bad weather today, but unfortunately the storms came through quicker than expected, and we didn't have any guarantees that it would be safe to go back out there at all today so we made the final determination to call off play for the day," said Reinard Kilian, the Sunshine Tour's Tournament Director.
Play will resume on Sunday morning with Justin Harding leading the field on 11 under par through 13 holes. He is one stroke clear of Oliver Bekker and Daniel van Tonder, who are also through 13 holes. Hennie du Plessis is next best on nine under par through 13.