Golf | 30 May 2017 | By Michael Vlismas
The Rise and Fall of Tiger Woods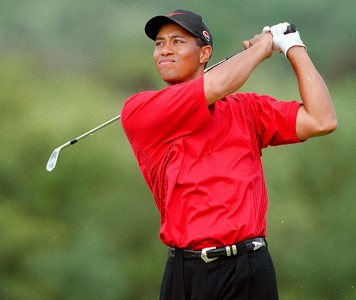 Tiger Woods at the 1998 Nedbank Golf Challenge
Pity. That is the one thing we never expected to feel about Tiger Woods.
And yet here it is – staring at us in the form of a police mugshot. DUI. A mix-up with the meds. Call it what you like. Much like when a golfer describes the first sign of the yips as just a slight lapse in concentration, you cannot deny that this is the start of a problem.
Woods's greatest problem for some time now has not been to find a way back to golf. It's been to find a life of meaning beyond golf.
Because golf has moved on. And Tiger hasn't.
Most golf fans have long made up their minds that Woods will not be able to come back from this latest back surgery, no matter how good he says he is feeling. The topic of conversation within the game has moved from "We desperately need Tiger back" to "It would be nice for golf if Tiger came back" to "Tiger Woods was great for golf".
In the case of the latter, he absolutely was.
As much as the game has given to Woods, he has given perhaps even more back to it. His fellow players know and appreciate this. Tour officials and sponsors are acutely aware of this.
But what Woods needs now is not Mark Steinberg and co. spinning another press release that's splitting hairs about whether this DUI was caused by alcohol or a mix-up in medication. He also doesn't need Michael Jordan throwing around the "T-Dubs" in reference to the nickname he uses for Woods when speaking of his friend.
Woods needs to find a way to redefine himself from the person he has been since the age of four. "Hello world" needs to become "Hello me". And for somebody whose whole life has been carefully stage-managed, the most dominant golfer of our age unique in his ability for focus and self-control on the course needs to ask the same question he once asked of Branden Grace: "Show me how".
This happened on the 14th hole of the South Course at Firestone Country Club in 2012. Woods and Grace were paired together. Grace had hit his tee shot into the right fairway bunker. The ball was close to the lip. Instead of the obvious sand wedge, Grace opted for a seven iron. He hit the shot to 12 feet from the hole.
And that's when a clearly impressed Woods, and ever a student of perfection, walked over and asked Grace, "Show me how you hit that shot".
"He said that's one of the best shots he's ever seen," Grace recalls. "I was like, 'Are you joking? You've hit shots like this to win Majors and now you're asking me how I did that in a normal tournament'."
Tiger Woods doesn't need a new swing, and he doesn't need a new back. He doesn't need another Major.
He needs a new reason.