Golf | 23 Feb 2017 | By Michael Vlismas
The Opening of Soweto Country Club Clubhouse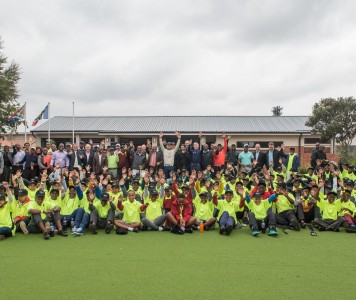 Soweto Country Club, More than Just a Country Club
Soweto Country Club has entered a new era in its history with the upgrading of its clubhouse as part of a major project to give Soweto golfers a facility they can be proud of.
On a grey and wet morning in Soweto, Clifford Ndou stares at the building before us. He speaks softly. And he speaks with great respect. "You know, this was just a shack when I first started to play here," Ndou says of the Soweto Country Club.
"Nobody really noticed the place. To see it now, it looks so amazing. When I look at it now I'm so proud that this is where I come from."
We are at the official opening of the new Soweto Country Club clubhouse. It is phase one of a major project driven by Sunshine Tour Executive Director Selwyn Nathan and several benefactors to upgrade South Africa's foremost township golf club, and a place that has birthed many of the country's leading black professionals.
Ndou is one of those, having played on the Sunshine Tour and also qualified as a PGA of South Africa professional. But this place has always meant far more to him than just golf. "The members of this shack showed me so much love when I was growing up. They supported me in my journey from a caddie here to becoming a professional. This shack was the foundation of my success.
"We need more children to become members of this club. They need to learn what we learned. Golf teaches you so much about life – respect, etiquette. And it connects you to the world because with golf you can prosper. Everything is possible with golf."
The Township Golfers who now have more than a Shack
Andrew Mlangeni, the legendary anti-apartheid activist and the oldest member of the club, also attended the opening. A man who spent time on Robben Island. A man who is in a photo with Bobby Locke and a few caddies when Locke played at Bethlehem Golf Club in the Thirties. A man who also remembers the shack.
"We come from very far with this club. In the new clubhouse there is an old picture of the first clubhouse. If you compare the two, you'll see the difference it has brought to this area here. We are so proud of this new facility."
The original golf course was built by Gary Player, and part of the upgrade is the goal to have Player redesign the course. "Maybe we can host big tournaments here one day," says Mlangeni. "And I would love to see more golf courses being built in other townships." For club captain Gopolang Nels, this upgrade is recognition of the fact that those golfers who live amongst the shacks and walk to work along muddy dirt roads also have a role to play in this game. "Thank you for believing in township golf. For believing that we as township golfers can also make a contribution to the game," he told the gathering of dignitaries at the opening.
Former Masters champion Trevor Immelman joined several other professionals in a golf clinic from some of the young Soweto golfers. It's not every day that a Major winner comes to Soweto Country Club, and it's also not every day that a Major winner feels as emotional as Immelman did about the experience.
"The opening of the clubhouse was such a passionate moment. You could feel the passion when the people were speaking, and you could feel how important this day is to them. And how important this club is going to be to the community.
"For me, as a South African, to come back and to witness this – I'm very honoured to have been part of it."
Several of the black professionals at the opening are playing in this week's Joburg Open at the Royal Johannesburg and Kensington Golf Club, including Sipho Bujela. Earlier this week, Bujela addressed a room of Joburg Open sponsors and officials and said, "I will be playing for the young amateur in Soweto who wishes to be a professional one day".
The shack is gone. And new memories are about to be made.