Golf | 04 Apr 2018 | By Michael Vlismas
And so it begins...The Masters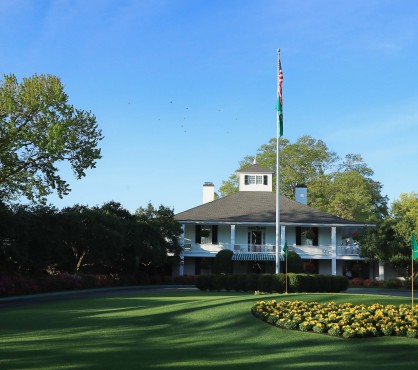 | Photo by Getty
There is always the sense that from about November the year before, everything in golf is building to this week. Masters week. And every player is doing his best to treat it just like any other week, even though it is far from any other week.
It's a bit like the place itself really. If you drive down Washington Road in Augusta, you could quite easily drive past the front gate of Augusta National Golf Club and miss it entirely. Not in Masters week of course, because the traffic alone would tell you that something's up.
But the entrance is pretty ordinary for one of the most venerated clubs in the game. Washington Road itself is one long strip mall. But then you drive down Magnolia Lane, and it's a whole different story.
Nothing you see on television comes close to encapsulating the golf course itself. For a start, there are changes in elevation the TV coverage just cannot capture. Standing at Amen Corner and seeing the drops and rises on the fairways and the subtle wind changes gives you a perfect understanding of why this is such a tricky part of the golf course to negotiate.
The greens themselves are a breed entirely their own. Huge breaks combined with a speed that would make most golfers cringe makes them an incredible challenge. Not everyone agrees with this though. Richard Sterne, who has made three trips to The Masters and has twice finished in the top 30 there, will tell you that many pros secretly curse the set-up there.
"It's become a slog. I've spoken to a number of players who have played 20 or 30 Masters, and they all say the same. You're hitting into greens that run on 13 or 14 on the stimp. You have to hit the ball exceptionally high, and there are only a very rare few players who actually can do that."
But the grand old men in green jackets call the shots here, and expect the world's best pros to be able to hit them.
In some ways it's a strange place. Immensely forward-thinking in certain areas, such as a media centre the likes of which you will be hard-pressed to find anywhere in sport, and then resolute in others, such as their wariness of technology in their broadcast and not introducing all the bells and whistles you see on your average golf tournament broadcast.
They are one of the richest Majors in golf – without a single bit of on-course advertising. A brand such as Coca-Cola may pay millions for its association with the Masters. But if you step off the press bus carrying a can of Coke, you will be greeted by security at the entrance to Augusta National who will kindly ask you for that can, pour it into a generic Augusta National plastic cup – with ice – and hand it back to you so that you enter those gates brand free.
Time can afford to stand still at Augusta National. Even the prices of their concession stands are more in line with what Bobby Jones would have paid.
Other things also don't go out of fashion during Masters week, such as manners. Patrons (not fans, please) can arrive early in the morning and put their chairs out and leave, perhaps waiting for an afternoon group. And when they return hours later, their chairs have will not been moved.
Everything is in place. Everything has its order and its time. Yet even for the players, there is a sense of tension ready to explode at any second. You hear it in the roars that echo around the course.
This is the start of the Major Championship season. Seventy-two holes. Strokeplay. Thursday to Sunday. Just like any other week on tour.
Except it's not.