Golf | 08 Dec 2017 | By Michael Vlismas
Flying Finn holds slender lead in Joburg Open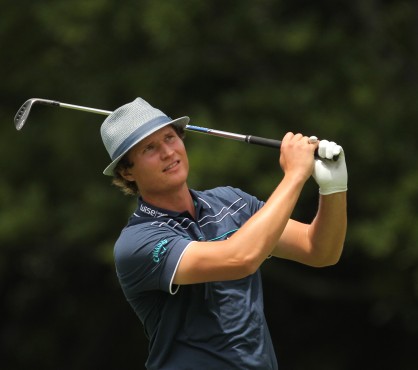 | Photo by Michael Vlismas
Another day of low scoring means the Joburg Open heads into the weekend with a leaderboard packed tighter than N1 traffic.
Finland's Tapio Pulkkanen heads the field on 14 under par following a round of 64 on Randpark's Firethorn course yesterday, and which started with six consecutive birdies.
"That was an awesome start. I actually birdied five of those same holes in the practice round, so it was a similar feeling," said the Finn, who finished top of the Challenge Tour's Road to Oman rankings this year to earn his European Tour card.
One shot behind him is India's Shubankar Sharma who tore through the par-71 Bushwillow course in 10-under-par 61.
"It was great. I couldn't have done better. I made pretty much everything I looked at. I hit the ball pretty decent and made a few key up and downs. I couldn't have asked for a better round," he said.
And two shots off the lead are South African Erik van Rooyen and another Finn in Mikko Korhonen.
Van Rooyen also enjoyed a fast start to his second round on Firethorn as he opened with four straight birdies on his way to a 67. And Korhonen's 65 included a run of five birdies in seven holes on the back nine.
Van Rooyen is certainly looking forward to the final two rounds on the Firethorn course as he took a week off last week to prepare specifically for the Joburg Open.
"It was about a bit of rest and a bit of preparation for this week. It's been a long season and I decided to prepare for this. The Joburg Open is an event we all want to play well in, and I'm off to a good start."
Van Rooyen is the only South African within the top 10 on the leaderboard of this tri-sanctioned tournament between the Sunshine Tour, European Tour and Asian Tour.
Since the inception of the tournament in 2007, only three foreigners have managed to win the Joburg Open.