Golf | 16 Mar 2018 | By Michael Vlismas
A Sunshine summer of success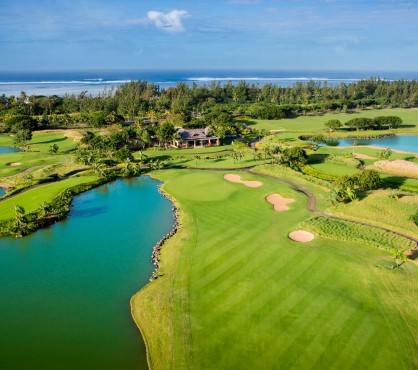 Heritage Golf Club | Mauritius
This week's Tour Championship at Serengeti marks the end of the Sunshine Tour's season, and it's been a significant one in so many respects.
So here is an entirely subjective list of my summer golf highlights.
Mauritius
Covering a golf tournament in Mauritius was never going to be bad. Seeing Dave Usendorff as the starter on the first tee in the most abusively-colourful floral island shirts made it even better. Everything about this tournament was a breath of fresh air – even the pin flags were like works of art. The compulsory act of handing in your shoes and going barefoot to the launch – on the beach – was everything you want from island golf.
Sangoma on Tour
It's no secret that the Joburg Open has had its fair share of struggles with rain over the years. So in December, I was intrigued when a cameraman friend pointed out a bit of local sangoma magic at Randpark Golf Club.
By a tree that stood at the back of the 18th green, there was a broom hanging from one of the branches as well as a saucer with an upturned glass on top of it at the base of the trunk. And under the saucer, I was told, was buried a fork.
Apparently, this is the sangoma way to prevent rain. A colleague of mine at the Daily Sun newspaper even had their resident sangoma (yes, the Daily Sun has its own in-house sangoma) confirm this.
Fantastic news.
We had a Monday finish because of rain.
Sharma-gnificent
When India's Shubhankar Sharma parked his car at Randpark Golf Club at the start of the Joburg Open, he was ranked 462 in the world. He was pretty much unknown outside of Asia. Although Ernie Els did meet a younger Sharma once and didn't tell the rest of us.
Sharma went on to win the Joburg Open and has been on an upward trajectory that makes Elon Musk's whole "Take a rocket to Mars with one of my cars on it" look like a yawn in comparison.
He's climbed to 64th in the world and received an invitation to play in The Masters – in the space of three months.
And he's a wonderfully likeable guy. He takes time to post Twitter videos now and then thanking his fans and sponsors.
He's one of those golfers SA golf fans are going to be talking about with the words, "I was there when he won his first European Tour event in the Joburg Open".
The BMW South African Open
Chris Paisley everybody.
A man who decided the best way to punish himself for playing poor shots was to put himself in the spotlight on the driving range (something he detests) by doing push-ups in front of everybody.
And a man who said of his wife caddying for him that week, "She knows nothing about golf, but she knows a lot about me".
If you want a foreigner to win the SA Open, Chris Paisley is your man.
And, another standout moment from this championship. The cheer that went up around the 18th at Glendower Golf Club on Sunday as Musiwalo Nethunzwi and playing partner Toto Thimba carried a South African flag between them as they finished their final rounds.
Both are members of the Gary Player Class, the Sunshine Tour's main development squad for historically disadvantaged professional golfers. It is the professional arm of a development structure that benefits from the South African Golf Development Board (SAGDB) and the Ernie Els & Fancourt Foundation (EEFF) as part of the collective golf development drive in this country.
"We were just so proud walking up 18 carrying that flag. Proud of our country and proud to be playing in the BMW South African Open, one of the greatest tournaments in world golf," said Nethunzwi.
Yes please.
That's what South Africa needs more of.
And for those who don't want to be part of it, there are weekly flights leaving for Australia.