Golf | 05 Mar 2018 | By Michael Vlismas
Sunshine Tour pros welcome new Steyn City Team Championship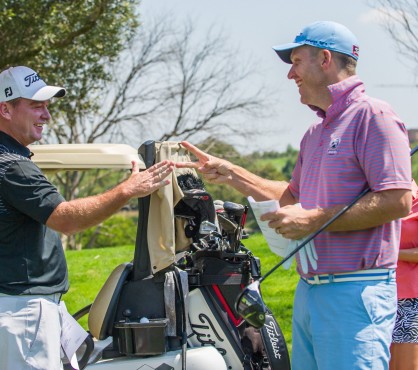 Sunshine Tour professionals, and this week teammates, Colin Nel (left) and Neil Schietekat wasted no time getting into the spirit of the new Steyn City Team Championship at The Club at Steyn City. They opted for rock-paper-scissors as a way of deciding who tees off first | Photo by Perfect Exposure
The Sunshine Tour launched its newest tournament concept on Monday as the R1-million Steyn City Team Championship teed off at The Club at Steyn City.
The tournament is a bold move by the Sunshine Tour to usher in team golf to its schedule as part of the global drive to attract a new audience to the game.
Following the official pro-am on Monday, 48 teams of two professionals each will compete over 54 holes. On Tuesday they will play 36 holes, the first 18 of which will be foursomes and the second 18 greensomes. Then on Wednesday they will play 18 holes of betterball.
"Around the world, members of the golf industry are finding ways to make the sport attractive to new fans, and this is our way of contributing to this effort," said Sunshine Tour Commissioner Selwyn Nathan.
And the response from the professionals is positive, even more so considering they were allowed to choose their partners for this tournament.
"You get to play with your mates so I think it's great. It's nice to have something different," said Oliver Bekker. "We need to try different things in golf and I think all the pros are excited about this. This kind of format gives you a lot of options going forward."
Doug McGuigan said the new tournament was a welcome diversion from the regular tournament golf they play on a weekly basis.
"Sometimes you get in a bit of a tournament rut week in and week out, and this is something fresh."
Jaco Ahlers said he was looking forward to playing this kind of format on a Steyn City golf course that he believes is perfectly suited to it.
"There are a few risk and reward holes out there, so it's perfect for this kind of event."
And Keenan Davidse was highly impressed with his first look at the Steyn City golf course.
"This is a phenomenal place. The golf course is one of the best I've played. I'm very excited about this event. It's a first for us, and it's great to interact with each other as teammates rather than just playing against each other all the time."
Giuseppe Plumari, the CEO of Steyn City Properties, said they were delighted to host this new event.
"We are delighted to be associated with the Sunshine Tour, and to have this opportunity to showcase our prestigious development and golf course to the country's top professionals and tournament guests."