Golf | 13 Sep 2017 | By Sunshine Tour
Jaco Mouton caps debut round at Humewood Golf Club with lead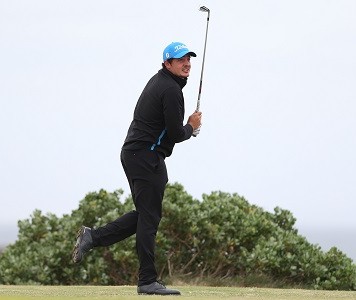 Jaco Mouton | Photo by Sunshine Tour
If you see Jaco Mouton wearing the same cap he wore during the first round of the R750,000 Boardwalk Challenge on Wednesday, it will be because his four-under-par 68 exceeded even his own expectations.
It gave him a share of the first-round lead at a windswept Humewood Golf Club with Colin Nel on a day when gusts of up to 50 kilometres an hour made life difficult and turned the best-known links course in South Africa into the testing track locals know it can be.
"Before I started I told the guy I'm travelling with that if I shot under par, I'd wear this cap for the rest of my life," laughed Mouton. "I think four-under is incredible, to be honest."
What makes it even more incredible is that it came in his first tournament round on the course. "It's my first time at Humewood," he said. "I played the pro-am on Monday and it blew me out of the water here. Today was really tough. It's cold and the wind was pumping. If you hit anything higher than 20 feet off the ground it was gone. But it's a nice challenge."
He responded to that challenge with an eagle, four birdies and two bogeys on a day on which only a single player managed to go around without dropping two shots or more. His co-leader, Nel, also made an eagle, but he had five birdies and three bogeys in his round.
"I'm very happy with my round," said Nel. "It was a grind the whole day in the wind. You couldn't take it easy on any hole. Even the downwind holes were tough. It was mentally draining too. You know the normal yardages, but then you take the wind into consideration. It becomes difficult with the gusting."
The secret for Mouton lay in the work he did close to the greens. "You've got to just keep it in play here and your short game has got to be good," he said. "You've got to up-and-down a lot of times because it's really hard to hit all the greens.
"I really like the course. It's the most links-style course I've played in the country. It allows you to run the ball onto the greens, which helps a lot playing in this type of wind."
Mouton and Nel held a one-stroke edge over five players. Francois Coetzee, Andrew Curlewis, Antonio Rosado, Hennie du Plessis and Hennie Otto all carded three-under-par 69s. There was a group of 11 players on two-under-par.
For Mouton, his opening round was a huge relief. "I've missed seven cuts in a row before coming here," he said. "I've been hitting it so well but I just couldn't get it together. This week, I finally put a round together in probably the hardest conditions we've played this season."