Golf | 12 Sep 2017 | By Sunshine Tour
Ruan De Smidt's putting crucial in Boardwalk Challenge defence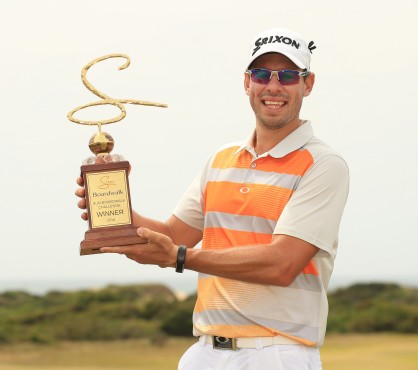 Ruan de Smidt during day 3 of the Sun Boardwalk Challenge at Humewood Golf Club on October 08, 2016 in Port Elizabeth, South Africa. | Photo by Luke Walker/Sunshine Tour
Ruan de Smidt goes into the defence of his Boardwalk Challenge title at Humewood Golf Club this week hoping his putting has turned a corner.
The R750,000 54-hole tournament gets underway on Wednesday, and De Smidt will have memories of his putting making it difficult for him to hold off a charging Tyrone Ferreira by a single stroke in last year's event.
"I just putted terribly today," he said last year of a victory which might have been more decisive. "I had 33 putts which is never great, but I hit it nicely."
It's more of the same this week for him. "I haven't been scoring really well," he said. "The putts are just not going in, but I putted a bit yesterday and it felt really good."
He will be somewhat encouraged by his performances in the last two Sunshine Tour events. In the first four of six consecutive events played in coastal and windy conditions, he missed the cut in the first two, but finished in a share of 27th and 28th in the last two.
He handled the Humewood wind well last year. "The weather last year was really tough, and I played nicely in tougher conditions – not so much this year so far," he said. "I hope I'm gradually getting used to tougher conditions again.
"I've been hitting my irons well but my driver has just been shocking. If you can hit driver straight around here, it makes the course a lot easier. I hit it nicely in the last round last week, so I hope that gives me the confidence I need going into this week.
"I've got the game to play in the wind, or in still conditions, so I'm not really trying to practice towards something specifically – I'm just practicing to be better. If it's windy this week, I've just got to hit it lower."
He will find plenty of players willing and able to take him on as he attempts to defend his title. Players like Jared Harvey, who took his maiden Sunshine Tour title at Zimbali a fortnight ago, relish playing in the challenging conditions Humewood presents.
Last year's runner-up Ferreira always seems to play well in Port Elizabeth, and players like Jake Roos, Ockie Strydom and Oliver Bekker have been in great form on the 2017-18 Sunshine Tour. Any of them can halt De Smidt in his tracks.
De Smidt, however, has a long term aim, and he won't get sidetracked from it. "I'm building up to the European Tour Qualifying School, so I need to try and find some form," he said. "I need to grind it out and try and compete with the guys on top of the leaderboard, because I haven't been in contention for a while now."
The tournament tees off at 6.45am on Wednesday.