Golf | 22 Nov 2016 | By The Mail Room
Sun City golf raises R660 000 for charities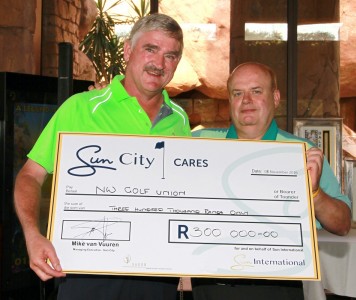 Sun City hosted two golf days under its Sun City Cares initiative during the Nedbank Golf Challenge hosted by Gary Player, raising a combined R660 000 for charity.
Buoyed by the tremendous response to its inaugural charity golf day in 2015, the second annual Sun City Cares Charity Golf Day on Tuesday 8 November at the Lost City Golf Course and in aid of the South African Golf Development Board's North West chapter raised R300 000.
The PwC Charity Golf Day was held for the first time this year on Wednesday 9 November and raised R360 000. Of this, R180 000 was added to the South African Golf Development Board's donation, while the other R180 000 was donated to orphaned and vulnerable children at the Touch Community Network.
"Both charity golf days were spirited events, offering golfers an opportunity to pit their skills against other golfers on one of the most beautiful golf courses in South Africa, while making a contribution to worthy causes. We extend our heartfelt appreciation to the golfers who took part in the events to support initiatives which are close to our hearts," said Mike van Vuuren, Resort Manager at Sun City.
For more information about Sun City and Sun Central visit #NewSunCity like us on Facebook SunCitySA or follow us on Twitter SunCityResortSA