Golf | 06 Mar 2018 | By Michael Vlismas
Good partners make good Steyn City Team Championship leaders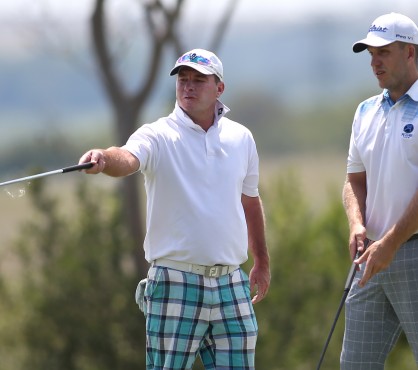 Colin Nel (left) and Neil Schietekat were the perfect team as they played their way into a share of the lead in the Steyn City Team Championship on Tuesday. | Photo by Shaun Roy/Sunshine Tour
Whether it's being good roommates because one player snores and the other is deaf in one ear, or having played golf together since Grade 7, the teams of Neil Schietekat/Colin Nel and Matthew Carvell/Lyle Rowe used whatever led to good golf to share the lead in the R1-million Steyn City Team Championship at The Club at Steyn City on Tuesday.
Both teams are tied for the lead on 13 under par in this tournament, which is making its debut on the Sunshine Tour schedule this week.
They are one clear of the teams of Kyle McClatchie/Christiaan Bezuidenhout, Hennie du Plessis/Jean Hugo, and Ross McGowan/Toby Tree.
The team of Schietekat and Nel put together a round of 67 in the morning foursomes followed by a 64 in the afternoon greensomes. Carvell and Rowe opened with a 70 in the morning and then put together an impressive 61 in the afternoon. Wednesday's last day will be 18 holes of betterball.
Unsurprisingly, the success of both leading teams came down to how well they know their partners.
"We had a lot of fun. We've been playing golf together since Grade 7 and we know each other's games. Colin is a good putter and I'm a good iron player, so we worked it out who should be hitting into the greens and who should do the putting," said Schietekat.
"The course is also great and there are a lot of birdies out there."
Carvell said he was the most relaxed he's ever been in a tournament playing with Rowe and in this format.
"Energy is important in this type of format. I didn't feel nervous out there at all because we had fun. We all stayed pretty relaxed. We had a bit of a slow start in the morning round, but we just tried to keep it together because we knew there was a low round to be had in the afternoon."
Carvell and Rowe have a good understanding because they are also roommates on tour.
"Lyle and I have been traveling together the last few years. He's great to travel with because he's deaf in his right ear and I snore quite a bit, so he just lies on that one ear and we all get a good night's sleep. But when it came to picking a partner for this format, he was my first choice."
Yet Rowe played hard to get.
"I asked Lyle first. I'll say that. I was searching for a partner so I asked him who he was playing with and he said, 'We'll make that call later on'. So I said, 'Well, phone me if you want to play with me'. And he did. So it's worked out for the best," said Carvell.