Golf | 27 Feb 2018 | By Michael Vlismas
Stacy Bregman bullish for Wild Coast Sun challenge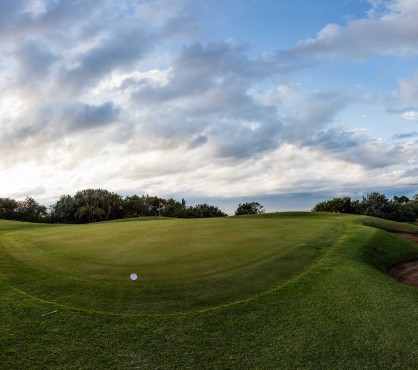 | Photo by Heinrich Helmbold
Stacy Bregman has put together a remarkable season on the Sunshine Ladies Tour this year, and she heads to the Wild Coast Sun Country Club for this week's SuperSport Ladies Challenge presented by Sun International seeking another win on one of South African golf's most historic courses.
Bregman tees off in Wednesday's first round of this R400 000 tournament having claimed a win, two second places and a fourth place finish in her last five tournaments on the Sunshine Ladies Tour.
She leads the Investec Property Fund Order of Merit with two tournaments to come, and a win this week would not only probably secure her that overall title, but would also be a fitting addition to the list of great and interesting moments seen on this golf course.
It was here where one of the longstanding records in South African golf was broken. Gary Player won the first South African Masters in 1960 with a then record score of 266 at Houghton Golf Club. John Fourie equalled that total in 1970. But it was at the Wild Coast Sun Country Club where Player's record was improved upon three times.
In 2002, Justin Rose won the SA Masters with a total of 265 for a victory that was also a major turning point early in his career. In 2004, Andrew McLardy claimed the title with a total of 264. And in 2009, Darren Fichardt set the current record total of 263 with his SA Masters victory.
The Wild Coast Sun Country Club occupies another place in South African golf history as having hosted a country's national Open outside of that country. In 2000, the Royal Swazi Sun Open had to be shifted to the Wild Coast Sun Country Club as work was being done on the Royal Swazi Sun Country Club course. Mark McNulty's triumph that year saw him become the Royal Swazi Sun Open's oldest winner at the age of 42, closing with a 61 on the Wild Coast Sun Country Club.
So there is more than a bit of history for Bregman to enjoy as she seeks a strong finish to her impressive season.
And for Rob Collins, Chief Strategy and Operations Officer of Sun International, his company's support of Bregman and fellow professional Nicole Garcia, as well as women's professional golf on the Sunshine Ladies Tour makes this week even more significant.
"We've embraced women's golf and it's working unbelievably well. There is enormous growth in this side of the game, and it fits our strategy of becoming more profiled in golf."