Golf | 13 Nov 2016 | By Michael Vlismas
Springbok great Smit tackles golf for Gary Player charity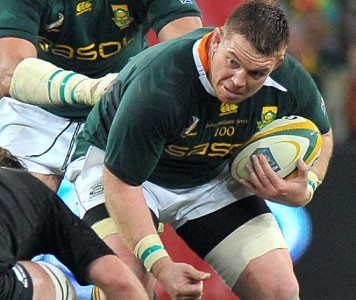 JOHANNESBURG (14 November 2016) – World Cup-winning Springbok captain John Smit will make his debut in the South African leg of the global Gary Player Invitational series when he joins a strong field of professional golfers, sports stars, celebrities and business leaders at Sun City later this month.
Smit joins sporting greats such as fellow Springbok Butch James, the football duo of former England and Manchester United star Andy Cole and former Bafana Bafana and Kaizer Chiefs defender Jimmy Tau, 2005 US Open champion Michael Campbell, South African Olympic swimming great Roland Schoeman, South African Olympic golfer Paula Reto and European Tour winner Haydn Porteous in this prestigious charity tournament to be played at the Lost City Golf Club from 24-27 November.
Irish singer and long-time Gary Player Invitational supporter Brian McFadden will also be at Sun City to support Player's charity drive for underprivileged children and The Player Foundation's quest to raise US$100 million for charity.
The Gary Player Invitational presented by Coca-Cola is now in its 17th year as South Africa's premier charity event, and has helped The Player Foundation raise more than R800 million across the world for various charities.
The proceeds from the South African tournament will go to various selected charity beneficiaries including Wings and Wishes and Wildlands.
Smit has played in the Gary Player Invitational series in England before, and South African rugby's most capped captain in history is looking forward to his debut in the Sun City tournament.
"It's extremely humbling to see how much money is raised for charity through the Gary Player Invitational tournaments. It is really a privilege to be part of such a worthy cause," he said.
"I'm very honoured to be able to join so many other sportsmen and leaders in their field in the South African tournament, where we can hopefully raise even more money for the various charities."
Player has welcomed the field as yet another example of how sport can change society.
"Our great leader Nelson Mandela always said sport has the power to change the world, and it's through the support of our leading sportsmen and women that we are able to do our part and change the lives of thousands of underprivileged children through the Gary Player Invitational series," he said.
For more information on the Gary Player Invitational, visit www.garyplayerinvitational.com and follow @GPInvitational on Twitter and Instagram - #GOLFandGIVING.