Golf | 11 Dec 2017 | By Michael Vlismas
Shubhankhar Sharma wins Joburg Open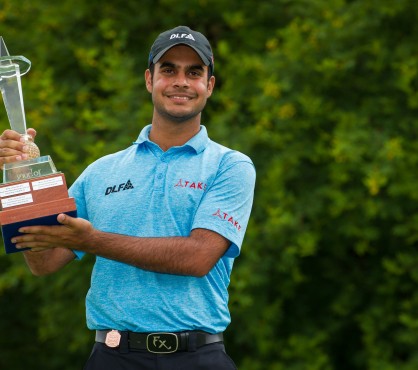 | Photo by Tyrone Winfield
India's Shubhankhar Sharma overcame a lengthy weather delay and a Monday finish to win the Joburg Open by three strokes at Randpark Golf Club.
Sharma closed with a round of 69 to claim the biggest victory of his career on 23 under par. South Africa's Erik van Rooyen finished second on 20 under with a final round of 66.
After a heavy thunderstorm forced the suspension of Sunday's final round, play resumed on the Firethorn course on Monday morning.
Sharma led Van Rooyen by four strokes with 11 holes to play on the Firethorn course. The 21-year-old rising star of Indian golf started the final round with a five-stroke lead and birdied the second hole to climb six strokes clear of the field. Van Rooyen made four birdies in five holes from the third to make a contest of it.
Sharma returned on Monday morning and birdied the ninth, which was the last birdie he would and also needed to make.
Van Rooyen did his best to chase down the leader, adding birdies at nine and 12. But he will be left to rue his third round of 70, which left him with too much ground to make up in the final round.
"It feels fantastic," Sharma said of his victory. "I'm glad I made the decision to come here after thinking about not coming. It has been absolutely fantastic and the people are very welcoming. I don't think I will ever forget this week. This is my first win on the Asian Tour and the European Tour so it means a lot to me."
Despite having a five-stroke lead at the start of the final round, Sharma stayed true to his strategy of playing aggressively.
"On the first day there were 240 players. I was just trying to play two good rounds to make the cut and the cut was really low. I was playing well and had a great start on the second day which got things going for me. As soon as I reached -13 after two days, I thought I had a chance to win.
"The only thing I was telling myself was to stay aggressive. I never wanted to be defensive. Even when I was leading I never thought of defending my lead. I actually set a target of 25 under."
Sharma also led the three qualifying spots into The Open from this tournament. Van Rooyen and Shaun Norris took the other two for next year's Major at Carnoustie.