Golf | 09 Dec 2017 | By Michael Vlismas
Sharma surges five ahead in Joburg Open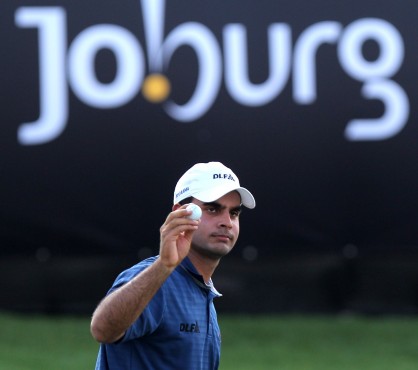 India's Shubhankar Sharma is looking to become only the fourth foreign winner of the Joburg Open as he takes a five-stroke lead into Sunday's final round on the Firethorn course at Randpark Golf Club.
The 21-year-old, described as the next big star of Indian golf, signed for a third round of 65 that lifted him to 20 under par for the tournament.
It was a solid round of golf that saw him par the first hole and then make four consecutive birdies on his way to taking the lead. And it came after his impressive 61 in the second round.
"I'm really happy. I wanted to play well because it's always tough following up a low round with another good round. So I'm proud of myself," he said.
His nearest challenger is Swede Christofer Blomstrand on 15 under. Blomstrand produced a magnificent round of 62 that included two eagles and two bogeys.
It was another display of the kind of low scoring that has dominated this tournament. And it's for this reason that Sharma is doing his best not to get ahead of himself.
"I'm just going to stay within myself because anybody can go really low on the final day."
Erik van Rooyen is the leading South African on 14 under and was proud of the way he remained in contention with a 70 on what he said was a difficult day for him.
"It was windy out there and I felt the course played different to what I've been used to. But you know, on days when you don't have your best game with you you've still got to knuckle down and be able to shoot two under, which I did."
Apart from the R2.6 million in prize money for the winner, there are also three places into next year's Open Championship on offer to the leading three players who finish in the top 10 and are not already exempt for this Major.