Golf | 25 Aug 2017 | By Michael Vlismas
SA hockey star turns to golf for CANSA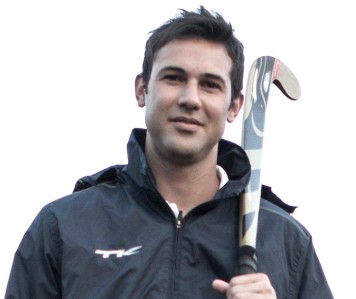 Rassie Pieterse
South African men's hockey national team star Rassie Pieterse will swop his hockey stick for a golf club in support of the Sanlam Cancer Challenge's efforts to raise funds for the Cancer Association of South Africa (CANSA), and he'll tee it up in the National Finals at Sun City this October.
Pieterse joins a host of celebrities and sports stars including Breyten Paulse, Toks van der Linde and Jakkie Louw who will play alongside the amateur golfers from around the country who have qualified to compete in the National Final on both the Gary Player Country Club and Lost City Golf Course from 9-10 October.
This is the 25th year of the partnership between the Sanlam Cancer Challenge and CANSA, with millions of rands having been raised in support of the work done by CANSA to assist people suffering from the disease and help with finding a cure.
"What Sanlam is doing for CANSA is amazing. I don't think there are a lot of people that haven't in some way been touched by cancer either themselves or through knowing friends or relatives who've had cancer," said Pieterse.
"And if you know of somebody who has had cancer, then you'll understand exactly what those people are going through. I've lost relatives to cancer, so to be able to play a small part in contributing to something like this is incredible for me."
While an accomplished hockey international goalkeeper, Pieterse says it's done little to improve his golf game.
"A hockey swing and golf swing are completely different. Hockey players tend to have a proper hook when it comes to golf. And with me it's even a bit more dangerous because I'm a goalkeeper. But I love the game.
"You know, as South African sportsmen we're quite lucky because we're all very social. I've been lucky enough to meet Ernie Els and I've also played golf with Keith Horne and Nico van Rensburg. And I love those two golf courses at Sun City. Just walking the Gary Player Country Club is a treat because of all the history there. So I'm really looking forward to playing in my first Sanlam Cancer Challenge there."
The Sanlam Cancer Challenge Regional Finals conclude in August, where the winners of the nationwide club competitions in their respective A, B and C Divisions will be attempting to qualify for the National Finals.
For more information go to www.sanlamcancerchallenge.co.za
About the Sanlam Cancer Challenge and CANSA
Sanlam and CANSA have partnered the Sanlam Cancer Challenge since 1993.
CANSA offers a unique integrated service to the public and all people affected by cancer. As a leading roleplayer in cancer research (more than R6 million spent annually), the scientific findings and knowledge gained from the research is used to realign CANSA's health programmes as well as strengthen its watchdog role to the greater benefit of the public. CANSA's wide-reaching health programmes include prevention and education campaigns, CANSA Care Centres that offer stoma and lymphoedema clinics, medical equipment hire, toll-free line and support to children and their families affected by cancer. There is also patient care and support in the form of 11 CANSA Care Homes for out-of-town cancer patients in the main metropolitan areas plus one hospitium (based in Polokwane) as well as two CANSA-TLC Lodges for paediatric oncology parents in Pretoria and Limpopo. Follow CANSA on Twitter: @CANSA (http://www.twitter.com/@CANSA) and join CANSA on Facebook: CANSA: Fighting cancer in South Africa (http://www.facebook.com/groups/25164487668/), visit www.cansa.org.za or call toll-free 0800 22 66 22 email: info@cansa.org.za.
The purpose of the Sanlam Cancer Challenge is to raise funds and awareness annually for the fight against cancer. Visit www.sanlamcancerchallenge.co.za.