Golf | 10 Oct 2017 | By Michael Vlismas
Former Springbok Toks fighting cancer one tee at a time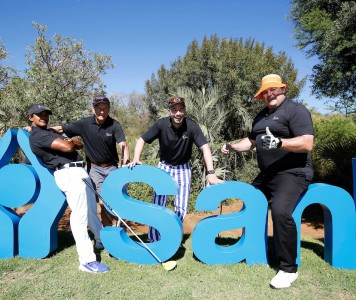 SUN CITY (North-West), 10 October 2017 – The massive frame of Toks van der Linde is seldom too difficult to spot, but it was even easier to know where the former Springbok prop was on Tuesday during the second round of the Sanlam Cancer Challenge because he was wearing a bright orange sun hat around the Lost City Golf Course at Sun City.
While Van der Linde, as fans of his TV show Toks en Tjops will know, is the sort of genial fellow who is always up for a bit of fun, the orange hat, which was equipped with a flowing scarf, had a serious reason behind it's deployment to the top of a head which scrummed down for the Springboks in 18 Tests.
Organisers of the Sanlam Cancer Challenge, which is celebrating 25 years of raising awareness and funds for the fight against the disease, noticed that Van der Linde was one of the few golfers in Monday's first round who didn't wear any sort of headgear. Toks was promptly called up at the halfway dinner and given his fine – which was to wear the orange hat all through Tuesday's final round.
"Normally I don't wear anything on my head, but the orange hat certainly made me feel more protected, which was great. Not being protected can certainly cause problems and cancer can happen overnight, so I also had lots of sunscreen on and we all went for Tests on the first day as well.
"I was a bit scared at first but it was wonderful to be able to go. The sister looks after you so well and they scan your whole body looking for skin cancer and checking your moles. They can tell you if you might be in trouble and, because it's an illness that can spread so fast, every South African must go and be tested. It's a very sad illness and sometimes people die in three months," Van der Linde said.
The dangers of cancer hit home for Van der Linde when fellow Springbok and Capetonian Rob Louw was diagnosed with skin cancer. It is a battle the former loose forward has now won.
"It's awful how many people suffer from cancer and thank goodness Rob is now clean. But it's important that ex sports people like myself, Breyton Paulse, Herschelle Gibbs and Vernon Philander give back because a lot of guys shy away from cancer.
"Sanlam look after us fantastically well and we're like ambassadors for their great cause. It's not just about the golf, it's just a fantastic couple of days, just to come here to Sun City is a privilege. The Sanlam Cancer Challenge is doing a wonderful job and I've just missed one event, in 2015," Van der Linde said.
Toks said the golf was "much better" on Tuesday, even though it is Paulse who is playing the better golf of the celebrity TV duo at the moment. The current Springbok rugby team is also something that is doing much better currently and Van der Linde said he is confident they will prove a major threat to the European teams they play on their end-of-year tour.
"I'm very positive that that they can go on their overseas tour and do really well. I'm close friends with Eben Etzebeth [Springbok captain], we talk just about every day, and we knew 57-0 is not the right score for this team. I'm very proud of the boys, I knew they would come out firing," Van der Linde said.