Golf | 09 Oct 2017 | By Michael Vlismas
Sanlam Cancer Challenge National Final celebrates 25 years of giving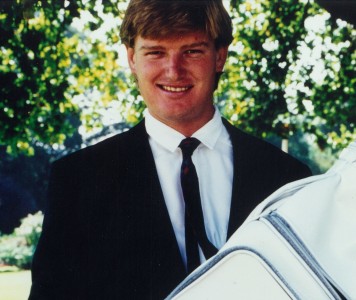 A young Ernie Els in the early years of the Sanlam Cancer Challenge. Els has been a loyal supporter of the tournament since it began and remains its official patron.
The Sanlam Cancer Challenge will celebrate its 25th National Final next week, celebrating a competition that has grown from 100 clubs taking part in the first event in 1993 to over 400 clubs and 40 000 golfers supporting the tournament this year by participating and raising money for CANSA.
The National Final is the culmination of nationwide South African and Namibian club competitions that began in March this year, followed by the Regional Finals. The winners here in the Men and Women's A, B and C handicap divisions have progressed to the National Final, which will be played over both the Gary Player Country Club and Lost City Golf Courses on Monday and Tuesday 9-10 October.
The competition is South African golf's most significant contribution in the fight against cancer and the funds raised through entry fees and donations are handed to the Cancer Association of South Africa (CANSA).
In the first nine years of the Sanlam Cancer Challenge, over R10 million was raised for CANSA. And by 2016, over R40 million had been raised to support the work of CANSA.
"Over 25 years the Sanlam Cancer Challenge has brought together golfers from all walks of life, united by a love of the game and the desire to do good," said Sanlam Sponsorship Manager Gary van Loggerenberg.
This year, Magersfontein Memorial Golf Club raised R418 830.16 in their Sanlam Cancer Challenge golf day, which is a record amount raised by a single club.
The competition has also drawn the interest of some of the biggest names in South African sport throughout its 25 years.
Ernie Els played in the first two Sanlam Cancer Challenge National Finals and thereafter has continued to support it as the official patron of the tournament.
And sports stars such as Francois Pienaar, Breyton Paulse, Toks van der Linde, Chester Williams, Herschelle Gibbs and Vernon Philander have also featured in the tournament over the years.
San Lameer Golf Course was home to the Sanlam Cancer Challenge for the first 17 years of the event.
In 2010 the tournament moved to Sun City and saw the youngest Men and Women's overall winners in the history of the event. Shawnelle de Lange won the overall Women's A division whilst Benji van der Rhede was the overall Men's A division winner.
Monique Smit, Schalk van der Merwe and Chris Davison are some of the other professionals to have featured in the competition over the years.