Golf | 07 Dec 2017 | By Michael Vlismas
A little bit of sangoma magic to keep the rain away from the Joburg Open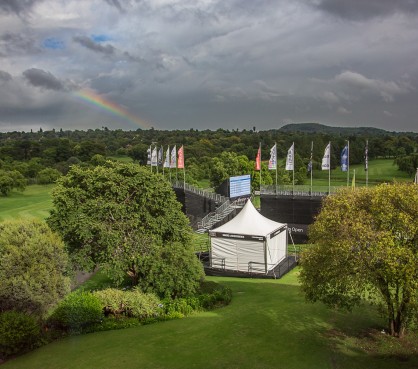 The Joburg Open has struggled with rain over the past few years and this week Randpark Golf Club are taking no chances. They've even used a local superstition and a bit of sangoma magic to try and make sure the tournament is not rained out.
The 2017 edition of the Joburg Open in February had to be shortened to 54 holes as rain washed out the third round at Royal Johannesburg and Kensington Golf Club.
So when rain forced the cancellation of the Tuesday pro-am for this week's tournament (which forms part of the 2018 season on the European Tour and is also now a tri-sanctioned tournament between the Sunshine Tour, European Tour and Asian Tour), Randpark Events Manager Gaby Lubeck decided to take matters into her own hands.
She hung a broom in a tree just outside the clubhouse, and at the base of the trunk buried a fork. Then another employee decided to add a bit of a sangoma's touch and placed a saucer with a glass of water turned upside down on it, and over the spot where the fork was buried.
According to Lubeck, she has personal experience of this working to ward of any rain.
"We had my husband's 70th birthday party and we had about 40 guests coming to our house. At about midday the clouds were black over our home. We'd already put Chinese lanterns in the garden and set up all the tables outside, and I just couldn't afford for it to rain because my home wasn't big enough to put all the guests indoors."
"A friend of mine told me about the broom and fork idea. I said, 'You're kidding me?' But I did it, and it didn't rain. In fact there was a cloud right above our house and it still didn't rain. So when it rained here all of Tuesday, we thought we'd try everything, including this trick."
The three major tours of the Sunshine Tour, European Tour and Asian Tour as well as their 240 professional golfers competing this week are certainly hoping it works.