Golf | 04 May 2017 | By Lali Stander
Birthday Boy Dreyer drives into lead at Gary Player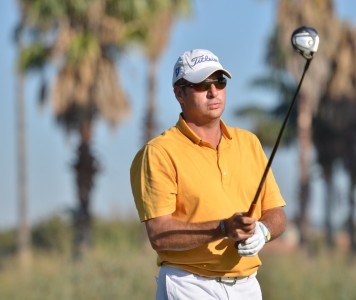 Killarney Country Club's Ryan Dreyer | Photo by Ernest Blignault
SUN CITY, 4 May 2017 – For a second successive day, failing light had the final say at the South African Mid-Amateur Stroke Play Championship, but not before Ryan Dreyer opened up a yawning gap over the field in Wednesday's second round in Sun City.
Dreyer celebrated his 45th birthday by pulling four shots clear of his nearest challenger and, with four holes left to play on Thursday morning, the former number one ranked mid-amateur could very well widen the gap even further.
Dreyer opened with a one-over-par 73 and he was two off the pace at the start of round two as first round pacesetter Derek Scullard from KwaZulu-Natal led the field into action at the Gary Player Country Club.
As the championship layout bared its teeth, though, the Killarney golfer found himself tied for the lead with Douglas McCabe from North West, fellow Central Gauteng golfer Kevin Sharp and Almero Theron from Free State before his afternoon start.
Scullard turned one over, but he skidded down the leaderboard after a triple bogey at the par-four 11th and a double bogey at 17 wedged between dropped shots at 15 and 18. The Kwambonambi golfer signed for an expensive 80 that will see him start the third round at seven over.
Second-placed Dino de Abreu will also return to complete the second round on Thursday, but the Kempton Park golfer pencilled in an eight at the par-four 14th and bogeys one, four, 11 and 12 to drop to 11 over.
Dreyer, meanwhile, set the tone for his round with a birdie start.
"I holed an eight-footer at the 10th to get going and that was a really nice way to start," he said. "I missed six putts in a row on the back nine for my 73 in the first round, but today the putts were dropping. The conditions are very tough. The course is absolutely brutal with very tight fairways and the toughest rough I've ever seen, so I stuck to a conservative strategy.
"I missed and that kept the bogeys off my card through the first nine holes. I made an incredible birdie at 17 when I hit eight-iron out of the bunker to 18 foot and holed the putt. I birdied the first to go three under, but dropped a shot with a scrappy bogey at the third.
"Having a three-shot cushion is great, but I'm still going to stick to my strategy because you can drop shots in a wink around this layout. She isn't called the Green Mamba for nothing."
Defending champion Gerlou Roux opened with a costly six over 78, but the Western Province player breathed new life into his bid for a SA Mid-Amateur Stroke Play hat-trick. Roux navigated the front nine in one under with birdies at three, six and nine and boxed another birdie putt at the par-five 10th to get to two under. A bogey at 13, though, will see him finish the final four holes on Thursday morning at five over for the tournament.
Theron completed the second round in 74 strokes to move to second at three over, and David Muller from Modderfontein sits at four over after carding a 73.
COMPLETED THIRD ROUND SCORES
147 Almero Theron 73 74
148 David Muller 75 73
151 Elton James 76 75; Ernest Botha 74 77; Derek Scullard 71 80
152 Dylan Keylock 76 76; Greg Sheard 75 77; Leonard Loxton 75 77
154 Jauqo Jacobs 78 76
155 Dino De Abreu 72 83
156 Josef Fourie 80 76; Donovan Pearse 77 79; Pieter Swartz 75 81
157 Corne van Deventer 80 77; Dino Di Carlo 78 79; Douglas Mc Cabe 73 84
158 Ludwig Schreuder 74 84; Sean Quigley 74 84
159 Thinus Laas 75 84; Weyers Janse van Rensburg 74 85; Anthony Usmar 74 85; Alain Norris 74 85