Golf | 31 Jul 2017 | By Michael Vlismas
A significant round of golf for Sewgolum's son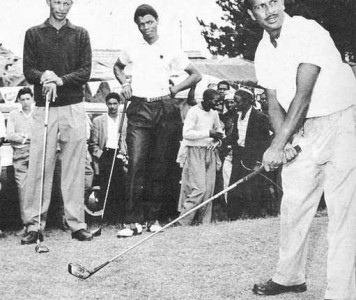 Rajen Sewgolum, son of the great Indian golfer Papwa Sewgolum, thinks about his father every single time he plays golf. So there was tremendous significance in the fact that he qualified for his first Sanlam Cancer Challenge Regional Final in the same month that marked the anniversary of his father's passing.
Sewgolum, one of this country's finest golfers who defined the plight for racial equality in South African golf, passed away in July 1978. His journey from caddie to European Tour winner remains a source of inspiration for South Africa's historically disadvantaged golfers.
Rajen started the Papwa Golf Club in honour of his father and this year felt that the club should host its first Sanlam Cancer Challenge golf day.
Rajen, a four handicap, won the A Division title to qualify for the KwaZulu-Natal Regional Finals of the nationwide competition in aid of the Cancer Association of South Africa (CANSA), and which this year is celebrating a 25-year partnership as one of the foremost fundraisers for CANSA.
"This was the first time I played in the Sanlam Cancer Challenge. We formed the Papwa Golf Club in Durban a few years ago and we've grown quite a bit, so this year we felt we needed to take part because it's for a good cause," said Rajen.
"It doesn't have to be just an anniversary of my father's passing that reminds me of him. Every time I'm on the golf course his spirit prevails, and it brings back all the memories of when my father used to play and what he achieved even though the odds were stacked against him most of the time."
Rajen only started laying golf later in life, and his son Nishalan is carrying on the family tradition.
"My father passed on when I was 16. I was still finishing High School, and because of his circumstances studying was a better option for me rather than pursuing a career in golf like him. So after my career kicked off I took up golf, which was much later in life. I suppose it's a pity I didn't start earlier because I have the same amount of passion for the game as he did."
The Sanlam Cancer Challenge Regional Finals will be played in August, where the winners of the nationwide club competitions in their respective A, B and C Divisions will be attempting to qualify for the National Finals at Sun City from 9-10 October, and played on both the Gary Player Country Club and Lost City Golf Club courses.
For more information go to www.sanlamcancerchallenge.co.za