Golf | 09 Oct 2017 | By Michael Vlismas
Protea veteran Herschelle Gibbs joins other stars in the fight against Cancer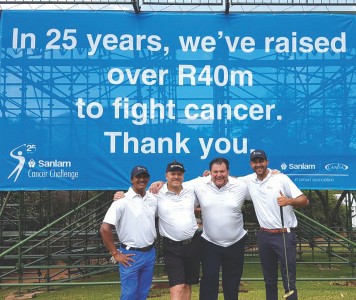 Fighting the good fight for CANSA. (FLTR)Former Springbok Breyton Paulse with Sanlam Sponsorship Manager Gary van Loggerenberg, Toks van der Linde and South African men's hockey national team stalwart Rassie Pieterse during the first day of the Sanlam Cancer Challenge National Final being played at Sun City this week. Credit: Gary van Loggerenberg.
Very little deters former Protea Herschelle Gibbs from having fun, so the Sanlam Cancer Challenge National Finals is a perfect fit for one of the most entertaining batsmen South African cricket has ever seen. But the event also has a serious side, raising money for the Cancer Association of South Africa (CANSA), and Gibbs fully embraces the important message that is being sent out at Sun City this week.
"The whole initiative is great, especially all the research they do, because cancer is obviously very dangerous. Any type of cancer is bad, but if you're an outdoors guy like me and you don't look after your skin then it could mean trouble.
"So I've just had my skin screened now and fortunately I've been given the all-clear. It's the 25th year of this event and hopefully it carries on for another 25 years. And it's also fine if they keep coming back to the Gary Player Country Club course." Gibbs said on Monday.
The veteran of 90 Tests and 248 ODIs for South Africa had gone out early and enjoyed one of South Africa's premier courses as he helped set the target of 86 points alongside current Protea Vernon Philander, Wessel Kotze and Stephan Schoeman.
"'The leader in the clubhouse' – I love that little saying! It's been a fantastic couple of days. This whole competition is wonderful and apart from supporting the fight against cancer it's lovely to catch up with friends from the various sporting codes and businessmen," Gibbs said.
The Sanlam Cancer Challenge has raised over R40 million to support the work of CANSA and Gibbs is just one of the big names in South African sport who have been drawn to the event throughout its 25 years.
Other celebrities who teed off at Sun City on Monday included South African hockey stalwart Rassie Pieterse, former Springboks Breyton Paulse and Toks van der Linde, and musician Jakkie Louw.
Ernie Els is the official patron of the tournament and the four-time major champion played in the first two Sanlam Cancer Challenge National Finals.
The Sanlam Cancer Challenge National Final, featuring winners of nationwide South African and Namibian club competitions that began in March this year, concludes on Tuesday. While the celebrities will play the Lost City Golf Course, the winners of the Men and Women's A, B and C handicap divisions will be decided over the Gary Player Country Club course.