Golf | 01 Nov 2017 | By Michael Vlismas
#Plank4Player to celebrate Gary Player's 82nd birthday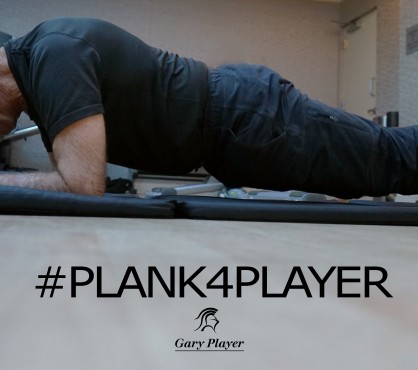 As part of Gary Player's 82nd birthday on Wednesday, November 1, Black Knight International requested the golf world to celebrate in the most appropriate way for "Mr Fitness".
Mr Player's family, friends, other professional athletes, and everybody from golf officials to the golf media were requested to participate in the #PLANK4PLAYER social media campaign.
People are being asked to plank for 82 seconds, or as long as they can, and then post a picture of themselves in the plank position using the hashtag #PLANK4PLAYER and mention @garyplayer (or @gary.player on Instagram) in their post.
The picture can be of themselves as an individual, or the entire family, office or team.
"My father enjoyed seeing everyone exercise on his birthday last year when we did a similar campaign of 81 sit-ups for Gary Player, and we hope to have similar success again this year," said Marc Player, CEO of Black Knight International.
The Grand Slam champion will be celebrating his birthday in South Africa as he prepares to host next week's Nedbank Golf Challenge at Sun City and then his own Gary Player Invitational presented by Coca-Cola at The Lost City Golf Course at Sun City from 23-26 November.
The Gary Player Invitational presented by Coca-Cola is the culmination of a year-long global campaign to raise funds for underprivileged communities and individuals, and which includes tournaments in the United Arab Emirates, Japan, the United Kingdom, the United States, China and finally South Africa.
To date the series has raised more than $64 million for underprivileged communities around the world, with the goal of raising $100 million by 2025.
In South Africa, the tournament supports Wildlands and its work inspiring impoverished communities to recycle waste and trade this for money, and Wings and Wishes and its work of funding transport for critically ill children to hospitals where they can receive proper medical treatment.