Golf | 02 Aug 2017 | By Michael Vlismas
PGA of SA pros making waves in Mauritius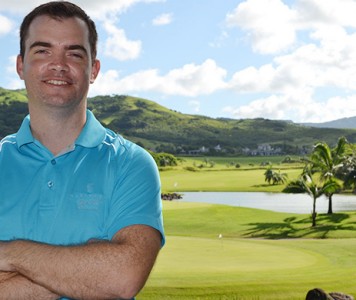 Jonathan Menteath, who will oversee his first AfrAsia Bank Mauritius Open at Heritage Golf Club in Mauritius later this year, is one of several PGA of South Africa professionals working in the growing Mauritius golf industry. | Photo by Heritage Resorts
The PGA of South Africa is at the forefront of an exciting growth phase in Mauritius golf, with as many as eight fully qualified South African PGA professionals making their mark in various facets of the island's golf industry.
On the tournament front, Mauritius will this year host its third AfrAsia Bank Mauritius Open, a tri-sanctioned tournament between the Sunshine Tour, Asian Tour and European Tour. It will do so at the spectacular Heritage Golf Club, which forms part of the Heritage Resorts in Mauritius.
Ryan Dodds has been key to the tournament's growth as he divides his time between assisting with this event and then also working as General Manager of the Avalon Golf Estate in Mauritius.
The General Manager at the Heritage Golf Club is another PGA of South Africa professional in Jonathan Menteath, who will be overseeing his first AfrAsia Bank Mauritius Open at the golf course in November.
Heritage Resorts has also announced that it will be building a second championship golf course at the resort, built by longtime PGA of South Africa member and leading golf course architect Peter Matkovich and Major winner and Honorary Member of the PGA of South Africa, Louis Oosthuizen.
Heritage Resorts is an official partner of the PGA of South Africa and the association will be hosting its first Mauritius pro-am here next year.
And Dave Usendorff completes the strong South African golf presence in Mauritius as the newly-appointed Director of Golf at the Four Seasons Golf Club Mauritius at Anahita.
"It's always satisfying to see our PGA of South Africa professionals doing well in international markets as this reinforces the high standard of education and training offered by the PGA of South Africa, contributing to the growth of the game within Southern Africa and beyond," said Ivano Ficalbi, Chief Executive of the PGA of South Africa.
"Our members also do an incredible amount for the growth of the local golf industry where they work. In Mauritius, both Dave Usendorff and Jonathan Menteath have several golf assistants working under them who are Mauritians and who will obviously be a vital asset to the growing golf economy on the island."