Golf | 13 Nov 2017 | By Michael Vlismas
PGA of SA helps SAGDB graduates to become qualified pros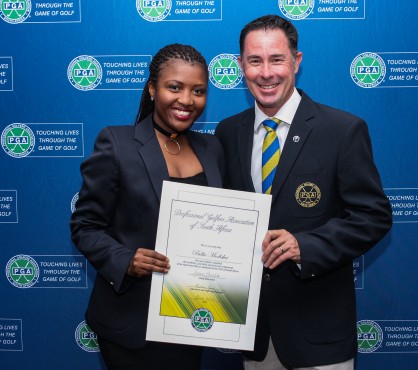 Bella Modisha
The PGA of South Africa currently has three qualified professionals and a fourth who is on his way to joining them as shining examples of the organisation's own development focus and its support of the South African Golf Development Board (SAGDB).
Bella Modisha, Siyabulela Magadla and Prince Modiba are all qualified PGA professionals working in the local golf industry, while Paul Nalana is currently the apprentice to PGA of South Africa Chief Executive Ivano Ficalbi.
All four have come through the SAGDB's programme and are now making a positive impact within the South African golf industry following their PGA studies.
Modisha started with the SAGDB in Atteridgeville, Pretoria, and has now risen to working as the Operations Manager at Observatory Golf Club.
"I wanted to gain some operational experience so that I can open my own coaching academy one day," she said.
"What I've enjoyed about the PGA programme is that it's given me various options in golf beyond just playing on the tour. I've been able to work in the golf industry, and there is a level of respect whenever you say you are a PGA professional."
Magadla has a remarkable story of rising through the ranks from working on the driving range at Erinvale Golf Estate to now being the head professional at one of the country's most sought after golf clubs, Leopard Creek.
"I was working on the range at Erinvale when Johan Piek was the Golf Director there. Then when he moved to Leopard Creek he took me with and has mentored me. Once I qualified as a PGA professional, I started helping to coach the SAGDB golfers from the Riverside Farm chapter. My goal is to one day become involved in the retail side of the golf industry," he said.
Modiba is also using his PGA skills to give back to his local community around Soweto Golf Club, which is experiencing its own revival as the Sunshine Tour has worked with the City of Johannesburg and various private sponsors to revamp this proud club.
"I want to one day open my own golf academy for these kids. I was inspired when Gary Player said we should be able to find our own Tiger Woods in Africa, and I want to be the person that finds that golfer," he said.
Nalana also hails from Soweto. He was fortunate to be part of a CATHSSETA golf programme that created an opportunity for 60 caddies/SAGDB students to study the PGA's accredited diploma of Club Professional Golfing.
Nalana is now working in the heart of the PGA of South Africa's operations at their head office at Royal Johannesburg and Kensington Golf Club where he serves as Member Relationship Manager for the PGA's Central Gauteng Region.
"I grew up playing golf and was always interested in the technical side of the game, so it was fantastic for me to learn more about this through the PGA of South Africa," he said.
"I learnt so much through the PGA, and it's given me the confidence to believe that there are no limits for me. I now want to become a full member of the PGA of South Africa and then start working in the coaching and equipment side of the game."
All four are certainly strong examples of the PGA's slogan of "Touching Lives Through the Game of Golf".