Golf | 10 Apr 2018 | By Michael Vlismas
Patrick Reed won The Masters. Deal with it.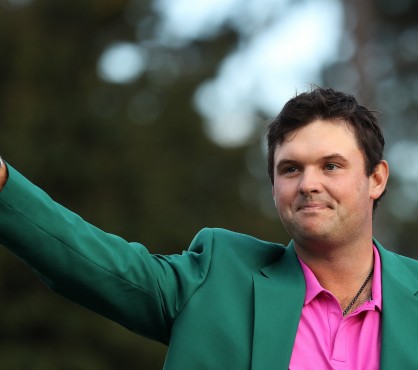 Patrick Reed | Photo by Getty
It's got to be one of the tougher questions a man has been presented with shortly after slipping on a size 44 green jacket that was tailored in Augusta. "Why does nobody like you?"
It wasn't asked in those exact words, but that was behind the question presented to Masters champion Patrick Reed after he had just won his first Major.
It's a question that came loaded with other baggage.
"You're in your hometown where you went to college, and there are more people shouting for Rory McIlroy."
"Your parents live in Augusta and aren't even here because you haven't spoken to them in years."
"Why does nobody on Twitter like you?" Perhaps the last one doesn't really count seeing as everybody seems to hate anybody on Twitter.
A myriad of articles have been written looking at Reed's dark and stormy past – his troubled college career, accusations of cheating, being disliked by former teammates, and his ongoing feud with his family.
That's what a Masters victory will do. It will open up untold opportunities for you as a golfer, but make no mistake the world will also very quickly know that in Grade 1 you pushed Tommy on the playground and stole his lunch.
But nobody can say Reed didn't deserve to win the Masters. You don't shoot three highly composed rounds in the 60s and then close with a one-under 71 in the face of a charging 64 by Jordan Spieth – a golfer so supremely talented and a man you can see making Augusta his personal playground for years to come – and not deserve it.
You don't win in the face of a final round of 67 by Rickie Fowler, the poster boy for millennial golf, and not deserve it.
And you don't win when there are cheers all around you for anybody but you to win, and not deserve to be Masters champion.
Give the man his due. He played incredible golf in one of the toughest and most intimidating arenas in all of sport, and he won. Fair and square.
But it does leave us with that one question: Why does nobody like Patrick Reed?
John Daly was light years ahead of Reed in golf's bad boy stakes. And fans loved him. Ben Hogan was as polite and personable as a puff adder, yet golf has glorified tales of him brushing off silly questions by young pros, and of him sometimes being dismissive of his fellow pros. Does it have something to do with the arrogance and brashness of Reed compared with those who have actually achieved golf greatness? And will it change now that Reed is a Major winner?
Reed is also not the first to receive little in the way of final-round support at Augusta National. Gary Player remembers well when he beat Arnold Palmer to the 1961 Masters. "Everybody was pulling for Arnold, except my wife and my dog," he has always said of that triumph. "I loved that. It made me all the more determined to win." Reed said something similar of the bigger cheers for McIlroy in this final round, claiming it motivated him.
Reed is a great golfer who brings a killer instinct to the game that can be exciting, and maybe even necessary in this age of political correctness. I for one would like a bit more Hogan on the scene, calling it like it is and not suffering fools. And Reed clearly has incredible mental resolve to come through a career that at this point has seen him seemingly alone against the world, and still emerging victorious.
As for the issues with his college teammates, well, wasn't it Tiger Woods who defined the era of "I'm not here to be liked. I'm here to win tournaments"?
Reed has admitted to multiple alcohol arrests at college. Jason Day was an admitted alcoholic at the age of 12. He became world number one and golf loved that backstory and tale of triumph.
Regarding the allegations of cheating in his college career, there are varied reports on this, with claims and counter claims. If true, that's as serious a breach as you can get in golf. Vijay Singh has always lived with a similar accusation early in his career. But golf has hailed him as the hardest worker in the game at his peak.
Does Reed deserve to be called the villain of the 2018 Masters? Certainly not. Can the Masters victory signal a turning point in his career and people's perceptions of him? Absolutely. Does he care what people think of him? Absolutely not.
But perhaps the one thing Reed could do as the new Masters champion is pick up the phone to mom and dad for the first time in six years. Whatever happened to spark that feud, only he will know. There is speculation about his choice to get married at the age of 22 and his parents not approving. His wife has made some strong comments on social media containing the word "abuse" in them. Whatever it is, only Reed will know. And only Reed can fix.
But if Patrick Reed fixes that relationship, he can be guaranteed of one thing.
The next time he's asked, "Why does nobody like you?" he'll be able to answer, "Not everybody".