Golf | 01 Mar 2018 | By Lali Stander
Determined Nobuhle Dlamini knocking at SuperSport Ladies Challenge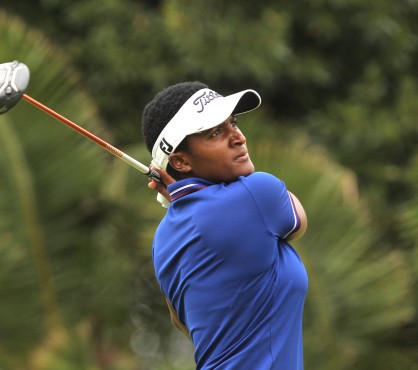 Swaziland's Nobuhle Dlamini leads by one shot heading into the final round of the R400 000 SuperSport Ladies Challenge, presented by Sun International, at the Wild Coast Sun Country Club. | Photo by Petrie Oeschger/Sunshine Ladies Tour
Nobuhle Dlamini moved one step closer to her maiden Sunshine Ladies Tour victory with a second round one-under 69 to lead by a shot from Melissa Eaton at the R400 000 SuperSport Ladies Challenge, presented by Sun International, on Thursday.
Dlamini followed her brilliant opening round of six-under 64 at the Wild Coast Sun Country Club with a more subdued 18 holes on day two to get to seven-under overall, but a 69 did her quest to grab her breakthrough win no harm at all.
Sunshine Ladies Tour debutant Jessica Karlsson from Sweden carded a second round 67 to rise to five-under overall, with Lora Assad a further two strokes back after an even-par 70. The difference in Dlamini's scores over the two days was down to her putting.
"It was another solid round, but I just didn't score very well," Dlamini said. "I hit the ball really well. I didn't putt like I did in the first round, but I'm still happy with a 69. I could have made more putts. My course management was good as well.
"I'm going to have the same approach into the final round and, if I putt better, it will be good enough. My game plan is good; my ball-striking is good. I'm still feeling confident on the greens, but I left quite a few putts short today, I had the lines right but my pace was out. In the beginning I hit them a bit hard so I tried to adjust. But the ball is running on line which is good."
Eaton from Port Shepstone aimed to use her home-ground advantage in round three.
"I just feel at home here, with the scorers and volunteers; it's a really good feeling. I know a lot of people are pulling for me," said Eaton.
"In the past I've put too much pressure on myself and it's been nice this year, because I haven't been in the media as much. I'm just trying to do my thing and go about my routine like I would anywhere else. It's been nice, though, having my family here and my twin Nicola watching me."
Eaton had one spectacular par-save during her round at the par three 11th. She was forced to stand in the middle of a bush to take her stance and was able to take a swing at it, and proceeded to bang in the putt from around 10 feet for par.
"I misfired at the wrong target and it almost cost me a lot there," said the Parkview assistant golf director. "I luckily found my ball and had a swing and I was fortunate to be able to chop it out and save par. That was big turning point for me in the round. I felt like things were going my way and I just needed to flow with that."
Despite a moderate first round, Eaton said she feels she is close to recording a really good score.
"The conditions were a little easier to begin with today, but it is moving day for us on day two. You need to try and get up a bit further on the leaderboard. We started off early and I just felt good. I knew yesterday I played very well but the score didn't quite show. I knew if I just continued with that frame of mind it would work, and it did."
As for her approach on Friday with the title on the line, Eaton said the confidence gained from a top joint second place finish in the SA Women's Masters would serve her well.
"Tomorrow I'm just going to keep the same mind-set and belief in myself and try to hit the right shot at the right time. I can't control other players, just my own game."
Meanwhile Investec Property Fund Order of Merit leader Stacy Bregman ground out a two-over 72 to go with her opening 73. The Canon Ladies Tshwane Open champion finished on five-over in a tie for 24th and made the cut by two.